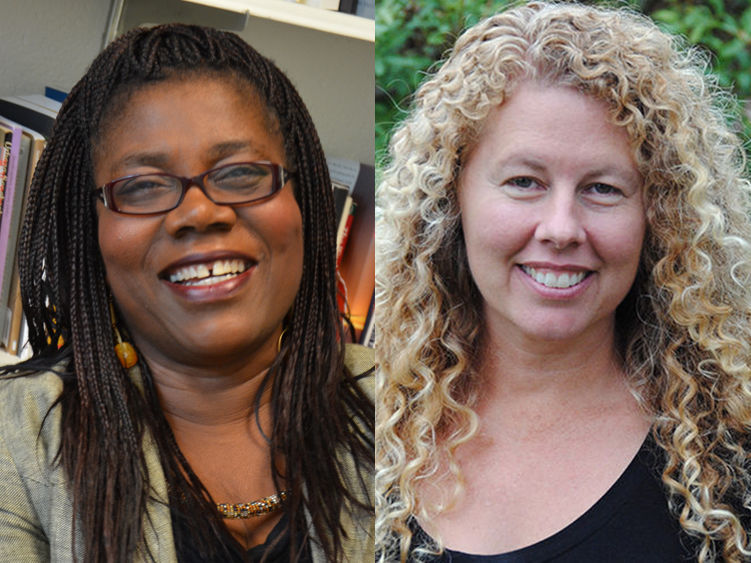 ALTOONA, Pa. — Penn State Altoona English faculty members Patricia Jabbeh Wesley and Erin Murphy will read from their works at 12:15 p.m. on Tuesday, Nov. 28, in the Titelman Study of the Misciagna Family Center for Performing Arts. A light lunch will be served.
Jabbeh Wesley, professor of English, is a poet, fiction/memoirist, and an anti-war/human rights activist. She immigrated to the United States with her family during the Liberian civil war, which shaped her writing over the last three decades. She is the author of six critically acclaimed collections of poetry, including "Praise Song for My Children: New and Selected Poems," "When the Wanderers Come Home," "Where the Road Turns," and "The River is Rising," along with a children's book, "In Monrovia, the River Visits the Sea." Her most recent book, "Breaking the Silence: Anthology of Liberian Poetry," was published in 2023.
Jabbeh Wesley's awards include the 2023 Theodore Roethke Memorial Poetry Prize, a 2022 Levinson Prize from Poetry magazine, a 2021 Edward Stanley Prize from Prairie, a 2002 Crab Orchard Award, a Barack Obama Award from the Blair County chapter of the NAACP, and a WISE Women Tribute Award in Arts and Letters. Her work has been translated into several languages and has appeared in national and international literary magazines and anthologies, including "New York Times Magazine," "Harvard Review," "Transition," "Crab Orchard Review," "Harvard Divinity Review," and Prairie Schooner."
Erin Murphy, professor of English, is the author or editor of 14 books, chapbooks, and anthologies, including "Human Resources" (forthcoming from Salmon Poetry), "Taxonomies," "Fields of Ache: Centos," "Assisted Living," "Bodies of Truth: Personal Narratives on Illness, Disability, and Medicine," and "Creating Nonfiction: Twenty Essays and Interviews with the Writers." Her work focuses on documentary poetry, creative nonfiction, medical humanities, and the narrative arts.
Murphy's awards include two Foreword INDIES Book of the Year Awards, a Dorothy Sargent Rosenberg Poetry Prize, the Rattle Poetry Prize Readers' Choice Award, a Best of the Net Award, the Foley Poetry Award, and The Normal School Poetry Prize. Her work has been featured on Garrison Keillor's "The Writer's Almanac," and in such journals and anthologies as "Ecotone," "Women's Studies Quarterly," "The Georgia Review," "Rattle," "North American Review," "The Best of Brevity," and "The Art of Losing: Poems of Grief and Healing." She serves as the inaugural Poet Laureate of Blair County where she is an inductee in the Blair County Arts Hall of Fame and the recipient of a WISE Women Tribute Award in Arts and Letters. For 2023-25, she has been named Penn State University's BTTA Mellon Academic Leadership Fellow.
Sponsored by the Penn State Altoona English program, the reading is free and open to the public.