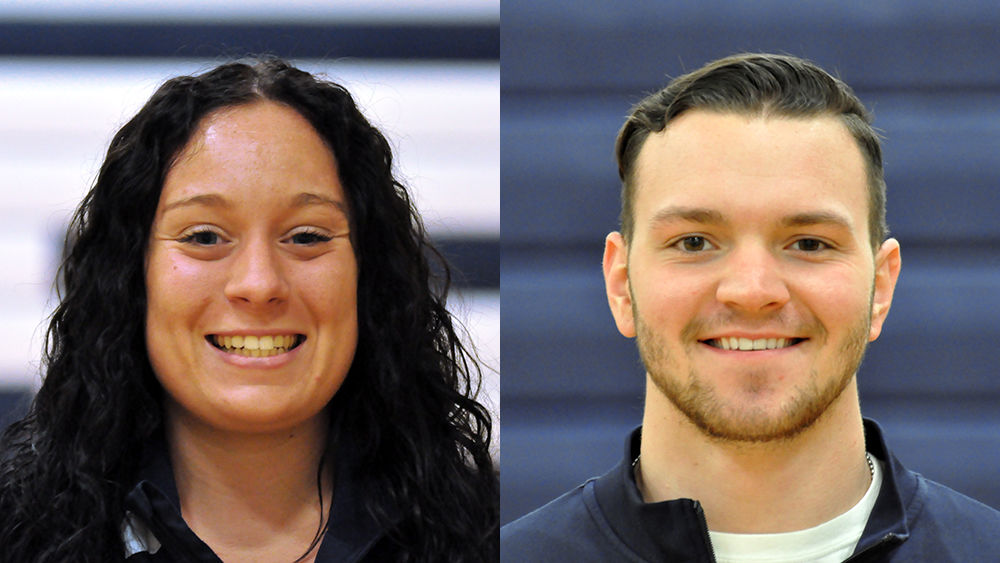 ALTOONA, Pa. - Penn State Altoona Athletics named its 2016-2017 Female and Male Scholar-Athletes of the Year this week: senior Emily Baker (Lewisberry, PA/Red Land) of the women's volleyball team and senior Jacob Byers (Level Green, PA/Penn Trafford) of the men's volleyball team.
2016-2017 Female Scholar-Athlete of the Year
Emily Baker (Senior, women's volleyball)
Penn State Altoona women's volleyball senior libero Emily Baker was chosen as Penn State Altoona's Female Scholar-Athlete of the Year for 2016-2017.
Baker was a four-year starter on a consistently successful Penn State Altoona women's volleyball team that never posted a losing season during her tenure. In her fourth and final season with the women's volleyball program this past fall, Baker continued to be the anchor of her team's defense. She set career-highs in digs per set (6.72) and total digs (652), ranking second and third, respectively, in those categories among all Allegheny Mountain Collegiate Conference players. The senior appeared in all 97 sets of her team's 26 matches during the season.
Baker's performance during the 2016 season helped the Lady Lions go 8-1 in the AMCC and finish the season as the conference's runners-up. Additionally, Baker and the women's volleyball team were selected to the program's fourth-ever berth into the ECAC Division III Tournament. Baker finished her collegiate career ranked third in Lady Lions history in digs (2,106) and digs per set (5.00).
In the classroom, Baker showcased the same kind of excellence. A multi-semester Dean's List student, she posted a 3.63 GPA while majoring in Biology. Baker was elected the president of the Beta Beta Beta National Biological Honor Society at Penn State Altoona for the 2016-2017 school year. She has also earned membership into Chi Alpha Sigma, the national honor society for college athletes, and received the John E. Lennox Academic Achievement Award, given for excellence in Biology.
Baker's involvement outside of campus has also stood out. She has been a home health aide for Interim Healthcare, volunteered and shadowed at Altoona Family Practice and UPMC Altoona, researched in a Penn State laboratory focused on neurobiology, and was an assistant coach at the Blue Ridge volleyball camp on an annual basis.
"Emily should write a book on time management skills. She deserves to be the Female Scholar-Athlete of the Year because of her achievements on the volleyball court, but especially because of her contributions in the field of medicine and the time that she has spent volunteering in the community," said Penn State Altoona women's volleyball head coach Phil Peterman. "Her actions on and off of the court are astounding."
Baker hails from Lewisberry, Pa. and graduated from Red Land High School.
2016-2017 Male Scholar-Athlete of the Year
Jacob Byers (Senior, men's volleyball)
Penn State Altoona men's volleyball senior outside hitter Jacob Byers was named Penn State Altoona's Male Scholar-Athlete of the Year for 2016-2017.
On the court, Byers was a four-year starter for men's volleyball, helping to transform the team from being a young varsity program during his freshman year in 2014 to winning a conference championship and making an NCAA Tournament appearance during his senior year in 2017. Byers battled through multiple injuries that sometimes limited his playing time but never hindered his performance. A two-year team captain, Byers is the men's volleyball program's all-time leader in kills (879), points (1031.5), service aces (76), and aces per set (0.25).
In the 2017 season, Byers helped lead the Lions to their first-ever Allegheny Mountain Collegiate Conference and North Eastern Athletic Conference championships, as well as the program's first berth into the NCAA Division III Tournament. Byers and his teammates helped establish program records for wins (26), NEAC wins (15), and AMCC wins (8) this season. He was selected the Most Valuable Player in the NEAC Tournament, as he helped lead his team to win the conference title.
This past season in the NEAC, Byers was fourth in points per set (3.9), fifth in hitting percentage (.249), sixth in kills per set (3.27), seventh in aces per set (0.33), 10th in points (314.0), and 11th in kills (265) and solo blocks (15).
As a student, Byers excelled while showing plenty of initiative and involvement. He carried a 3.35 GPA, majoring in Marketing and Management with a minor on Entrepreneurship. Byers was a member of the Sheetz Fellowship program at Penn State Altoona, conducting outreach presentations to students to promote the program, participating in leadership activities to raise funds for local charities and causes, traveling abroad for international business enrichment, and networking with entrepreneurs on a national level to learn business strategies.
Byers also belonged to Penn State Altoona's Enactus, a social entrepreneurship organization. He was elected the group's president for the 2016-2017 school year in a vote of his peers. Byers was one of 23 students nationally who were selected to attend the 2016 Partner Summit in Rogers, Ark., hosted by Walmart and Pepsi Co., and he was also the member of the presentation team that advanced to the national competition in St. Louis, Mo.
Penn State Altoona student-athletes have had an annual partnership with the Special Olympics of Blair County, and Byers was part of that bond during his collegiate career. He volunteered with Special Olympians, helping to train and instruct them in volleyball and bowling.
"Jake is the definition of a scholar-athlete. He is the first person in the gym and the last person to leave. He always puts the best interest of the team in front of his own," said Penn State Altoona men's volleyball head coach Phil Peterman. "Jake should be what every athlete strives to be at Penn State Altoona. His accolades in athletics and academics have been accomplished while working to develop his own company, participating in business competitions, and being the president of Enactus."
Byers is a native of Level Green, Pa. and graduated from Penn Trafford High School.