Registration now open for sessions in Altoona and Palmyra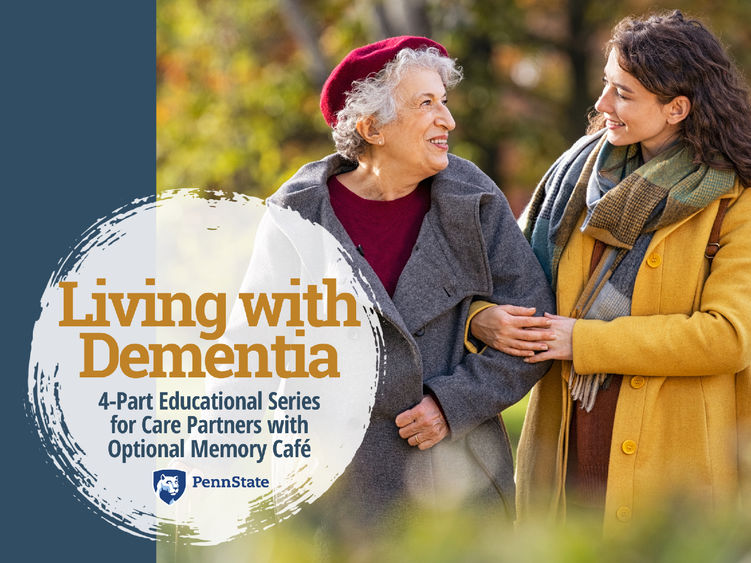 UNIVERSITY PARK, Pa. — Providing care and support to a loved one with Alzheimer's disease or other dementias can often be a difficult and isolating experience. Through the Age-Friendly Care, PA initiative (AFCPA), the Penn State Ross and Carol Nese College of Nursing will again offer its "Living with Dementia" series to provide practical tools, realistic tips and community resources to assist caregivers.
The four-part series will take place in person on Tuesdays in Altoona and Wednesdays in Palmyra, beginning in late August.
Informal caregivers and anyone interested in learning more or providing support to someone impacted by Alzheimer's disease or other dementia-related disorders and diseases are encouraged to attend. Participants can expect an open learning environment in each session and time to ask questions. All events are free of charge and open to the public.
First offered last fall, the "Living with Dementia" series aims to increase understanding about dementia and its effects, help refine individuals' caregiving skills, provide ways to develop more effective communication techniques and proactively manage difficult situations and more.
Session topics and dates:
Session 1: Understanding Dementia-Related Brain Changes

Aug. 29 in Altoona
Aug. 30 in Palmyra

Session 2: Understanding Behaviors as a Form of Communication

Sept. 12 in Altoona
Sept. 13 in Palmyra

Session 3: Resources for Persons with Dementia and Their Care Partners

Sept. 26 in Altoona
Sept. 27 in Palmyra

Session 4: Planning for the Future with Dementia

Oct. 17 in Altoona
Oct. 18 in Palmyra
In addition to AFCPA, the series is presented in collaboration with the college's Tressa Nese and Helen Diskevich Center of Geriatric Nursing Excellence (CGNE), and the Penn State College of Medicine, Division of Geriatric Medicine.
The sessions will be led by Rollin M. Wright, associate professor of medicine at Penn State Health Milton S. Hershey Medical Center, and a dementia care expert with AFCPA; Peg Chabala, dementia education specialist; and Janice Whitaker, certified dementia practitioner, geriatric nurse, and administrator with CGNE and a member of AFCPA.
"We learned during last year's events just how much informal caregivers needed a sense of community along with realistic approaches to caring for their loved ones, more understanding about dementia-related changes, and ideas for daily activities and resources," Whitaker said. "Our collaborative Penn State team is committed to offering this comprehensive and innovative learning opportunity to more people in the central Pennsylvania region. We're eager to share information and proven techniques, as well as provide guidance and support to care partners and their loved ones to enable them to have the most positive dementia journey possible that maximizes their quality of life."
A unique feature of this programming is an optional "Memory Café," where participant care partners can bring their loved one living with dementia to enjoy activities in a safe, supervised environment while they separately attend the educational sessions.
The café offers respite for care partners as well as an intergenerational learning experience for Penn State undergraduate nursing students, medical students with an interest in geriatrics and other volunteers who will be paired with older adults for activities, including the evidence-based "Opening Minds Through Art (OMA)" experience. OMA participants create no-fail artwork and share opportunities for social engagement as well as creative self-expression. The interaction also helps prepare nursing students to work in clinical environments where individuals with dementia are cared for such as acute and primary care, nursing homes and other settings.
Advance registration is required for both the educational sessions and Memory Café, as space is limited. To register, call 814-865-1234 or visit the AFCPA website. Questions may be emailed to this dedicated inbox.
Age-Friendly Care, PA is a collaboration between the Nese College of Nursing and the Primary Health Network (PHN). The initiative aims to disseminate the 4Ms of age-friendly health systems: "What Matters, Medication, Mind, and Mobility," an evidence-based framework to advance best practices to care for older adults that includes four essential elements of high-quality care.
AFCPA's work is supported by the Health Resources and Services Administration of the U.S. Department of Health and Human Services as part of the Geriatric Workforce Enhancement Program award. The "Living with Dementia" series also is made possible through support from CGNE and the Harry Albertman Geriatrics Endowment at the Penn State College of Medicine.