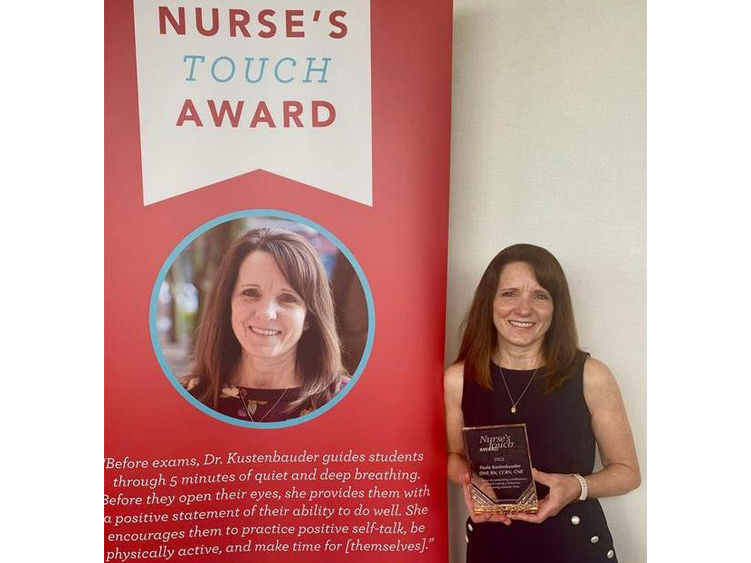 ALTOONA, Pa. - Paula J. Kustenbauder, Ross and Carol Nese College of Nursing assistant teaching professor at Penn State Altoona, was chosen as a recipient of the Nurse's Touch Award for 2022.
The award recognizes outstanding educators with significant professional and interpersonal skills who can integrate these skills into their nursing practice and train the next generation of nurses. In other words, students adopt "the nurse's touch."
Four chosen educators are honored annually at the National Nurse Educator Summit from the ATI Nursing Education, a main provider of online learning for nursing. The 2023 summit took place on April 24-27 in San Antonio. Kustenbauder was awarded on stage and had the chance to network with hundreds of nurse educators from across the country.  
Kustenbauder received her bachelor of science in nursing from St. Francis College in 1991. Shortly after completing her master of science in nursing from Indiana University of PA in 2009, she began her teaching career at Penn State Altoona. She most recently received her doctor of nursing practice in 2020. While receiving her doctoral degree, she worked on a quality improvement project focused on compassion-based communication skills and implemented a program for medical-surgical/oncology nurses. This has remained an interest of hers particularly as it affects patients in the Intensive Care Unit (ICU), after having spent the majority of her career working in the ICU.
"Although I am honored to receive the Nurse's Touch Award, I am very humbled by it. Being a nurse and a nurse educator are blessings to me. My compassion and fulfillment to do both are gifts from God and are supported by the love of my colleagues, family, students, and friends," said Kustenbauder. "Receiving an award for doing what seems so natural and joy-producing is humbling, but I am appreciative of being recognized for making a difference in the lives of my students. They, in turn, make a difference in mine." 
The individuals who are named as Nurse's Touch Award honorees must excel at teaching students the technical knowledge and skills required to be safe and competent, and they also must set an example for students. According to the award, four qualities are essential to having this special "touch" and being invited into this elite echelon of nurse educators: professional communication; wellness/self-care; knowlege of nursing informatics/technology; and leadership/management.
Each fall, peers and managers within the nursing profession nominate individuals who exemplify these qualities. A rigorous review and scoring process whittles the nominees to a handful representing four regions of the United States. One is then chosen from each region as its honoree.
To read more about the Nurse's Touch Award, visit the award page on ATI's website. To learn more about ATI, visit them online.