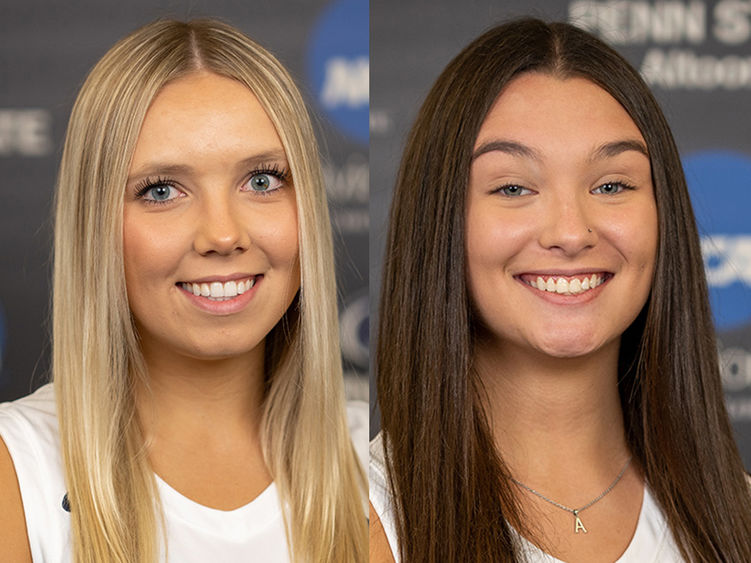 ALTOONA, Pa. — The College Sports Communicators organization, formerly known as the College Sports Information Directors of America, released its list of Academic All-District honorees in women's basketball on Tuesday, Feb. 21.
Penn State Altoona women's basketball had two student-athletes named to the CSC's Division III Academic All-District team, as guard Emma Kitko of Houtzdale and forward/center Emily Munson of New Hartford, Connecticut, each earned spots on the list.
To be included on the CSC Academic All-District team, women's basketball student-athletes were required to meet certain qualification criteria. All nominees must have completed at least one calendar year at their current institution while having cumulative grade-point averages of 3.5 or higher, being key starters or reserves on their team, and having strong athletic accomplishments, statistics, and accolades.
All-District student-athletes were nominated by athletics communication professionals who are members of CSC. Nominators could submit up to four deserving student-athletes per team.
Kitko has played in all 24 games to date for Penn State Altoona this season. In the Allegheny Mountain Collegiate Conference, she ranks second in three-pointers made (53), eighth in three-point field goal percentage (31.9), 18th in points per game (8.5), and 19th in total points scored (203). Kitko has been a three-year Peak Performer on the AMCC's Academic All-Conference team and was inducted into Chi Alpha Sigma, the national college athlete honor society. She is a biology major at Penn State Altoona.
Munson has also started all 24 games for the Lions so far this season. She ranks 11th in the AMCC in offensive rebounds (56), 17th in total rebounds (129), rebounds per game (5.4), and blocks (9), and 20th in defensive rebounds (73). Munson was an AMCC Academic All-Conference student last year, and she is majoring in education.
Penn State Altoona women's basketball is 11-13 overall, including 8-6 in the AMCC. The Lions, who have the No. 4 seed in the AMCC Tournament, host fifth-seeded Hilbert College at 7 p.m. tonight, Feb. 21, in a first-round playoff game.
Academic All-District honorees advance to the CSC Academic All-America ballot. First-, second- and third-team Academic All-America honorees will be announced in mid-March.