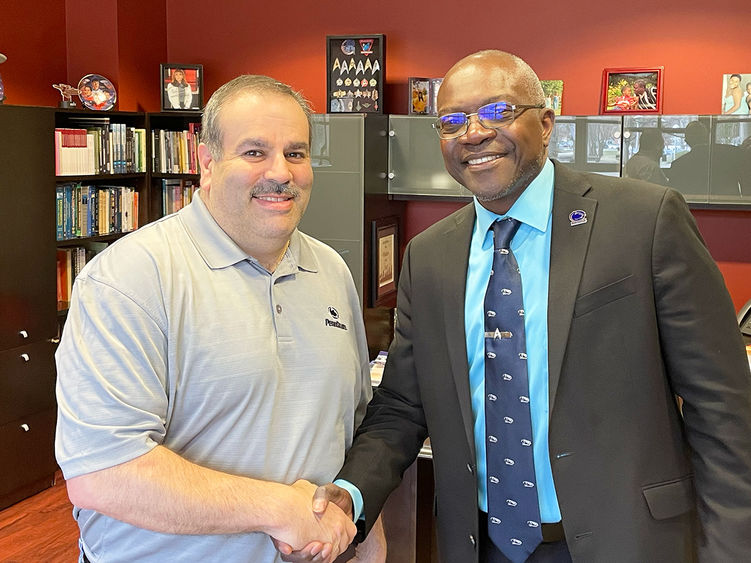 ALTOONA, Pa. — Grant A. Risha, professor of mechanical engineering, has been conferred the status of distinguished professor, the highest professorial distinction at the University.
"To receive such an honor is both humbling and remarkable at the same time," Risha said. "Being among faculty across Penn State who also have received this honor is overwhelming. I believe that the distinguished professor recognition is truly not a singular achievement of one's career; rather, it requires the collective efforts of students, faculty, staff, mentors, family, and friends who inspire and assist me in various manners along the way."
Risha is chair of the Mechanical Engineering program and director of the Advanced Combustion and Energetics Lab at Penn State Altoona. He holds a doctorate in mechanical engineering from Penn State. His primary research interests are reactive flows/combustion, energetics, fluid dynamics, heat transfer, and propulsion. He has performed research on the enhancement of hybrid rocket solid fuel performance by introducing nano-sized energetic particles, solid propellant airbag combustion, pyrotechnic igniter characterization, solid, hybrid, and bi-propellant rocket combustion, diffusion flame combustion, aluminum/water combustion, and solid fuel pyrolysis.
Throughout his 25 years of experience, Risha has designed and fabricated numerous pressure vessels and combustion systems and performed thousands of pressure-related experiments. He has publications evaluating combustion events under ultra-high-pressure environments in addition to fundamental experimental research.
Risha has co-authored over 118 manuscripts and mentored more than 80 undergraduate researchers at Penn State Altoona. He is the recipient of Penn State Altoona's Outstanding Achievement in Research and Creative Activity Award and has numerous Best Paper Awards from the American Institute of Aeronautics and Astronautics for his work in hybrid rockets and propellants and combustion.
The title of distinguished professor, established by the Office of the President, recognizes the academic contributions of current full-time faculty members who hold the rank of professor. Distinguished professors are acknowledged leaders in their fields of research or creative activity; demonstrate significant leadership in raising the University's standards in teaching, research, or creative activity and service; and exhibit excellent teaching skills.
"Students are the most influential to me and the reason I am an educator. They have taught me as much as I could ever have taught them. Their efforts and willingness to engage in my classroom continues to motivate me as an educator and aspire to continuously improve. Mentors are also extremely important. I would like to acknowledge my late thesis adviser, Kenneth K. Kuo, for his suggestion to me to pursue academia. Special thanks to my friend and mentor Richard A. Yetter for his council, tutelage, and collaboration during this entire journey, from being a student to a faculty member. Without question, friends, staff, faculty, colleagues, and administrators at Penn State Altoona provided avenues for me to receive such distinction. Finally, without the unwavering support of my family throughout the years, such an honor could have never been possible."
Risha is the fourth faculty member at Penn State Altoona to receive this honor. Rebecca Strzelec was named distinguished professor of visual arts in 2019. Brian Black was named distinguished professor of history and environmental studies in 2017, and Sandra Petrulionis was named distinguished professor of English and American studies in 2014.