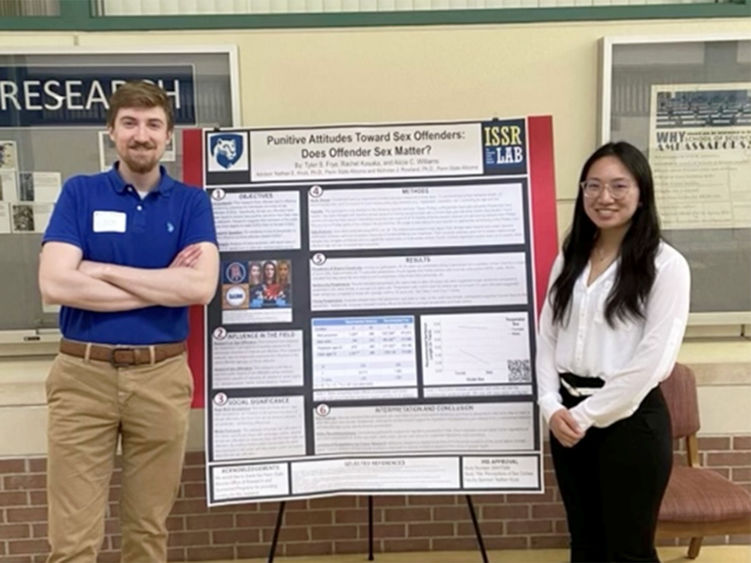 ALTOONA, Pa. — Criminal justice major Rachel Kosaka took home top prize in the undergraduate student poster competition at the Pennsylvania Sociological Society's annual meeting held Nov. 4-5. Kosaka's poster, titled "Punitive Attitudes Toward Sex Offenders: Does Offender Sex Matter?" showcases findings from a research project conducted with recent Penn State Altoona graduates, Tyler S. Frye, and Alicia Williams.
"Our study explores gender-based and age-based bias in punitive attitudes," commented Kosaka. "Using nationally representative data from an experimental vignette, we found that hypothetical jurors recommended longer sentences for male perpetrators, older perpetrators, and for those who victimized females than for those in reference groups, controlling for other relevant variables, demonstrating latent bias in decision making."
Kosaka and her co-authors are members of Penn State Altoona's Integrated Social Science Research Lab, co-directed by Nathan E. Kruis, assistant professor of criminal justice, and Nicholas J. Rowland, professor of sociology.
"The team has been working on this project for a little more than two years," remarked Kruis. "They started by conducting a pilot experiment with students on campus. Then they collected national data and ran base-line models. Just this summer they got to the real complex part of the analysis which was running four-way Factorial ANOVAs and exploring interaction effects. It is an advanced undergraduate project that has taken some time to fully develop."
"We could not be more proud of Rachel and her team," said Rowland. "She is one of the longest standing lab members. She's a skilled leader too, helping the younger students in the lab prepare for this competition and numerous others. She earned that win."
"It really was a team effort," remarked Kosaka. "Without support from my other lab members and our advisers, this definitely would not have been possible."
A manuscript developed from the study's findings is currently under review.
The ISSRL and work produced by the lab is made possible by Penn State Altoona's Division of Education, Human Development, and Social Sciences, headed by Leigh Ann Haefner, associate professor of science education. It is embedded in the criminal justice and sociology programs coordinated by Mary Ann Probst and Karyn McKinney-Marvasti, respectively.