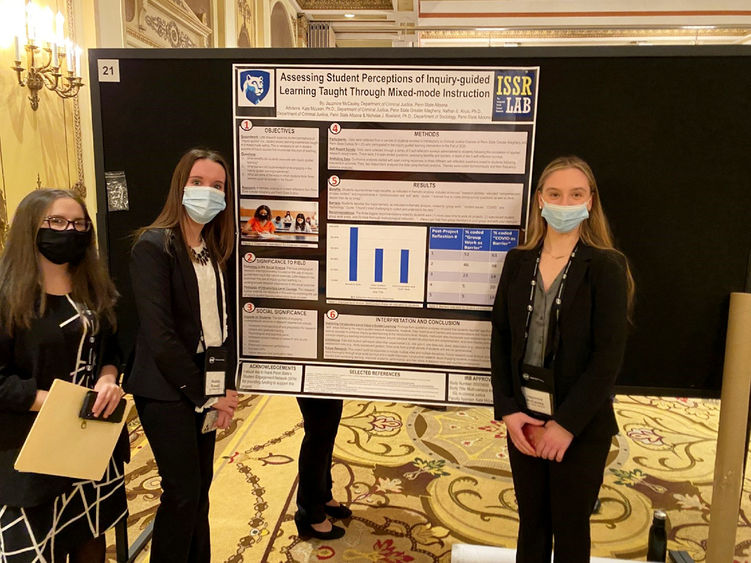 ALTOONA, Pa. — Jazzmine McCauley, a Penn State Altoona student majoring in criminal justice, recently published an article in the International Journal for Students as Partners, an interdisciplinary journal devoted to scholarly research on students, faculty and staff working in partnership to enhance learning and teaching in higher education.
The article — titled "Students as assessment partners: A collaborative, qualitative evaluation of the Guns on Campus course-based undergraduate research experience" — explores findings from a multi-campus, hybrid course-based undergraduate research experience that Penn State students participated in during the first year of the COVID-19 pandemic. It is McCauley's first scholarly publication.
The article is based on an evaluation of an undergraduate research experience funded by the Penn State Student Engagement Network (SEN), implemented by Katherine McLean, associate professor of criminal justice at Penn State Greater Allegheny; David Bish, assistant teaching professor of criminal justice at Penn State DuBois; and Nathan E. Kruis, assistant professor of criminal justice at Penn State Altoona. The trio used funds from SEN to offer an applied undergraduate research experience to students enrolled in the Introduction to Criminal Justice classes taught at their respective campuses in fall 2020.
Students completed a series of five applied research projects as part of their required course curriculum for the semester and created a poster representative of their work. They developed original research questions, created and administered a survey, analyzed data, and presented their findings. At the end of the semester, students traveled to a national criminal justice conference where they presented, as well.
"This project gave us an amazing way to engage students at the height of the pandemic," remarked McLean. "From a faculty perspective, we were incredibly lucky to recruit highly-driven student research partners at the beginning of their careers."
McCauley was a first-year student-participant enrolled in Kruis' Introduction to Criminal Justice class in fall 2020.
"I had no prior experience with research before I came to Penn State Altoona, but I instantly fell in love with the project," says McCauley. After the semester she began working more closely with Mclean, Bish and students enrolled in their colleges. She also collaborated with them on more detailed analysis and manuscript preparation in subsequent semesters. "The whole experience was great. It truly changed my life. Now I'm a student partner in the Integrated Social Science Research Lab at Penn State Altoona. Everything I do is devoted to the study of criminal justice, and I love it."
"I can still see Jazzmine sitting in the front row of my class that fall semester," reflected Kruis. "She was so full of enthusiasm and still is. Every day she comes in with a smile on her face, excited to work and learn. I'm happy to see that her hard work paid off with this publication."
Support for this project was awarded by the SEN 2020-21 Faculty Academy, which provided faculty fellows with project funds and mentoring. The SEN also administers a student grant program with three annual award cycles. Penn State students at any campus in any year of study are invited to apply for funding to support a research project, internship, or other engagement experiences. Potential applicants should visit the Student Engagement Network website to learn more.