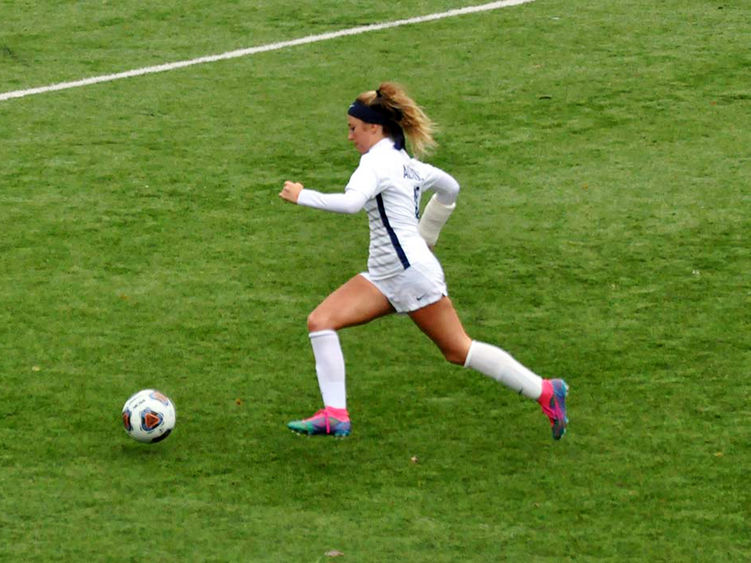 NORTH BOSTON, N.Y. — The Penn State Altoona women's soccer team was predicted to finish in fourth place this fall in the Allegheny Mountain Collegiate Conference (AMCC) regular season standings, as the league announced the results of its 2022 Preseason Coaches' Poll on Thursday, Aug. 25.
Defending AMCC champion Penn State Behrend took first place in the poll, while Pitt-Greensburg and Mount Aloysius College were selected second and third, respectively.
Penn State Altoona women's soccer went 8-10 overall last season, including a 5-3 mark in the AMCC that put the team in fourth place the conference standings. The Lions won their first-round AMCC Tournament game, reaching the semifinal round of the conference playoffs. Head coach Pam Snyder Etters returns for her 12th year at the helm of the women's soccer program, which brings back 11 players from last season's roster.
Named as "Players to Watch" in the poll for Penn State Altoona were Mallorie Smith (Bellefonte, PA/Bellefonte) and Sarah Huston (Coatesville, PA/Coatesville).
Smith, a forward, was voted the AMCC's Newcomer of the Year in 2021 while also being a second team All-Conference selection. Among all league players, she ranked second in game-winning goals (4), fourth in shot attempts (70), fifth in assists (7), sixth in goals scored (11), and seventh in points (29).
Huston, a midfielder, was a second-team All-AMCC pick last season and finished the year with two goals and four assists. She ranked 12th in the conference in assists, 30th in points (8), 36th in goals scored, and 39th in shots attempted (17).
Penn State Altoona women's soccer opens its 2022 season at non-conference opponent Lycoming College next Thursday, Sept. 1, at 4 p.m.