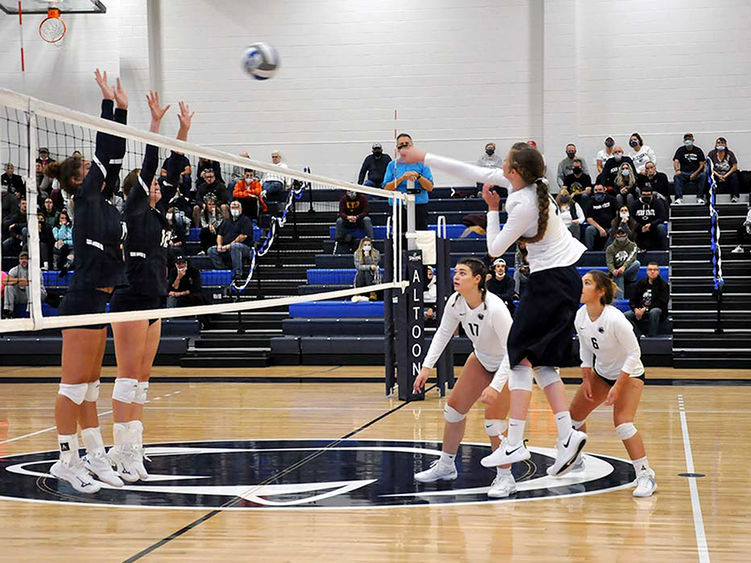 NORTH BOSTON, N.Y. – Penn State Altoona women's volleyball's outside hitter Lydia Mock (Alum Bank, PA/Chestnut Ridge) was voted the Allegheny Mountain Collegiate Conference's (AMCC) Preseason Player of the Year, and her team was predicted to finish in third place in the conference this season, as the league announced the results of its 2022 Preseason Coaches' Poll on Thursday, Aug. 25.
Penn State Behrend, the defending AMCC champion, was selected first in the poll. Alfred State College was voted into second place, with Penn State Altoona coming in third.
Mock was a first-team All-AMCC pick last year, when she ranked third in the conference in kills per set (3.21), fourth in total kills (202) and points per set (3.6), seventh in total points (224.5), 11th in digs per set (3.22), 12th in total digs (203), and 16th in hitting percentage (.181). She was also named to the AMCC All-Tournament team for her postseason performance.
Also picked as a "Player to Watch" for Penn State Altoona this season was libero Erin Lutz (State College, PA/State College). Lutz took second team All-AMCC honors last fall, finishing second in the league in digs per set (4.86) and third in total digs (340). She was twice named the AMCC Defensive Player of the Week, and she also received the Eastern College Athletic Conference Division III South Region Defensive Player of the Month award for October.
Penn State Altoona posted a 16-5 overall record last season, including a 6-2 mark in the AMCC that put the team in third place in the league's regular season standings. The Lions reached the semifinal round of the AMCC Tournament and will look to build on their success this season under 14th-year head coach Phil Peterman.
Women's volleyball starts its 2022 schedule on the road Friday, Sept. 2 and Saturday, Sept. 3, when the Lions will compete in a total of four matches during the Gettysburg College Battlefield Classic.