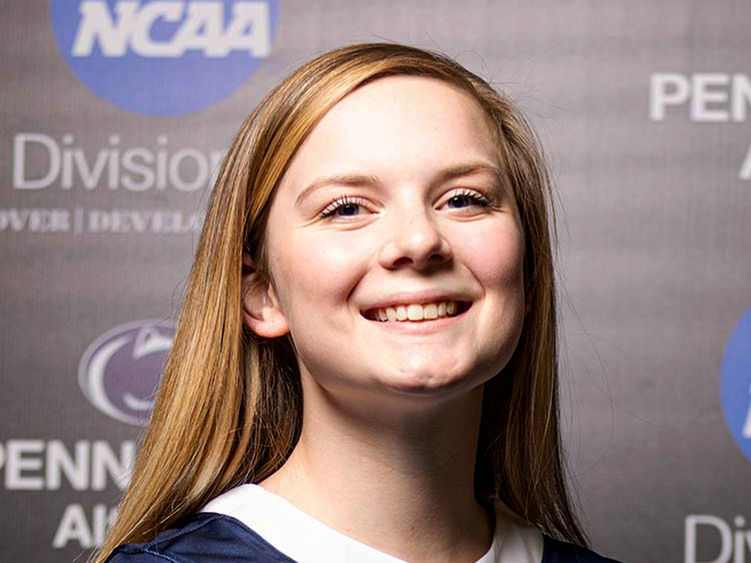 LOUISVILLE, Ky. — Another individual recognition for a member of the Penn State Altoona softball team rolled in on Monday, May 16, when first-year first baseman Gianna Hoppel (Lewistown, Pennsylvania/Mifflin County) was named to the third team of the Division III All-Region squad by the National Fastpitch Coaches Association (NFCA).
Hoppel is one of just three Allegheny Mountain Collegiate Conference (AMCC) players selected to the All-Region team, which represents Region VII of Division III softball. The All-Region awards honor student-athletes from the NFCA's 10 regions and are nominated and voted upon by member coaches.
Hoppel appeared in 29 total games for Penn State Altoona, including making 26 starts while enjoying a strong first season with the Lions. She led the AMCC in batting average (.462) this spring while also ranking second in on-base percentage (.488), sixth in sacrifice hits (4) and home runs (1), ninth in slugging percentage (.538), 16th in hits (36), 20th in runs scored (21), 22nd in total bases (42), and 26th in runs batted in (16). Hoppel fielded her position well, finishing 13th in the AMCC in fielding percentage (.982) while ranking fourth in putouts (160).
Last Thursday, Hoppel was announced as having been voted to the first team of the AMCC All-Conference team.
All honorees on the NFCA All-Region teams move forward to be considered for selection for the three NFCA Division III All-America squads, which will be announced next Tuesday, May 24.
Penn State Altoona softball went 20-13 overall this season, including going 12-4 in the AMCC to place second in the conference's regular-season standings. The team's total of 20 overall wins was its most since 2018, and its 12 AMCC wins were the most since 2017. Penn State Altoona also made a strong run in the AMCC Tournament, reaching the championship game and finishing as the conference runners-up – the program's best finish in the AMCC Tournament since 2014.