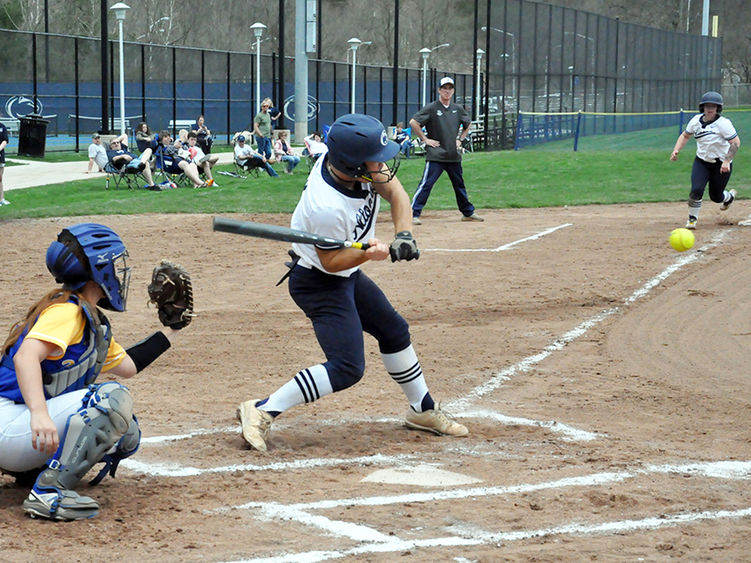 NORTH BOSTON, N.Y. — Penn State Altoona swept the Allegheny Mountain Collegiate Conference's (AMCC) weekly softball awards on Monday, April 18, as utility player Cameryn Feathers (Martinsburg, PA/Central) was named the conference's Player of the Week and pitcher Alyssa Fisher (Lock Haven, PA/Central Mountain) took Pitcher of the Week honors.
Feathers and Fisher helped Penn State Altoona go 4-0 last week, improving to 5-1 in the AMCC following doubleheader sweeps of conference opponents Pitt-Greensburg and Medaille College.
In Wednesday's 4-2 and 9-0 wins at home over Pitt-Greensburg, Feathers combined to go 2-for-6 with a run scored and a stolen base. In Saturday's 8-2 and 10-2 road wins at Medaille, she was 5-for-8 with eight runs batted in, two runs scored, and her first collegiate grand slam.
On the week, Feathers hit .500 (7-for-14) with eight RBI, three runs scored, one grand slam home run, and one stolen base. This is her first career AMCC Player of the Week award.
Fisher was victorious in both of her starts in the circle last week. In game two against Pitt-Greensburg, the right-hander pitched five shutout innings, allowing only four hits and one walk. In the second game of the doubleheader at Medaille, she limited the first-place Mavericks to just one earned run on three hits and two walks over five innings, and she struck out two batters.
In two starts last week, Fisher was 2-0 with two complete games — including one shutout — and yielded just one earned run over 10 innings for a 0.70 earned run average. She held her opponents to seven hits and three walks while recording two strikeouts. This is Fisher's first collegiate AMCC Pitcher of the Week recognition.
Penn State Altoona softball is 11-8 overall this season, including a 5-1 mark in the AMCC. The Lions' next scheduled games are at home this Wednesday, April 20, when the team will host nearby conference rival Mount Aloysius College for a 3 p.m. doubleheader.