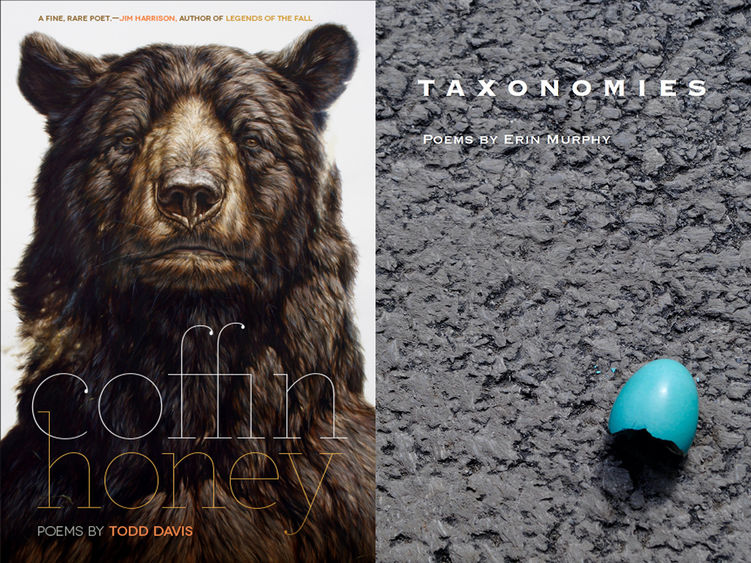 ALTOONA, Pa. — Todd Davis and Erin Murphy will read from their new books of poetry on Tuesday, March 29, at 7 p.m. in the Titelman Study of the Misciagna Family Center for Performing Arts. The reading will kick off the spring Hard Freight Café open mic event.
Davis, professor of English and environmental studies, will read from "Coffin Honey," and Murphy, professor of English, will read from "Taxonomies."
"Coffin Honey" is Davis' seventh poetry collection. The poems explore human beings' violence toward each other and the natural world and tackle issues of racism, climate collapse, and pandemic through a personal lens. Poet Adrian Matejka says that Davis is "one of America's most capacious and imaginative poets" and observes that in his latest book, Davis is "in tune with both the mundane and the spiritual in revelatory ways."
"Taxonomies," Murphy's eighth book of poetry, is a collection of demi-sonnets, a seven-line form she invented. Mirroring scientific taxonomies, the poems categorize elements of the human experience that defy simple classification: gender, aging, relationships, and social justice. "Erin Murphy's 'Taxonomies' crosses the boundaries of what poets can do with form, musicality, and meaning within the small space of seven lines per poem," says poet Shaindel Beers. "These are poems of the body and the mind, the soul and society. They are poems for all of us, and Murphy is a master of her art."
Davis and Murphy will sign copies of their books which will be available for purchase.
The reading will be followed immediately by the Hard Freight Café open mic event. Attendees are invited to read or perform their own work or music or share a favorite piece of poetry or prose. Participants will be invited to sign up at the beginning of the program. Hard Freight Café is sponsored by the English program and "Hard Freight," Penn State Altoona's online student literary magazine.
The event is free and open to the public.