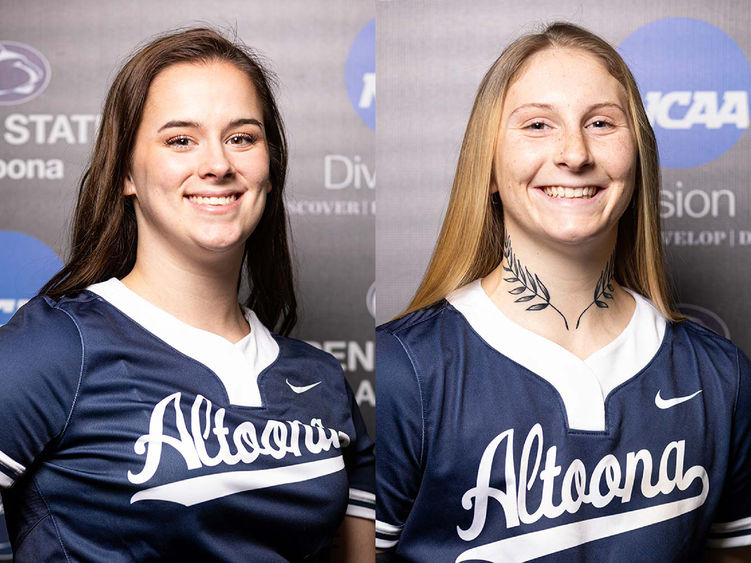 NORTH BOSTON, N.Y. — Penn State Altoona softball earned both of the Allegheny Mountain Collegiate Conference's weekly awards on Monday, March 7, as the league announced the first round of its player of the week honors of the 2022 softball season.
Right-handed pitcher Casey Reese (Cresson, Pennsylvania/Penn Cambria) was named the conference's Pitcher of the Week, while middle infielder Olivia Smith (Martinsburg, Pennsylvania/Central) was selected its Player of the Week. Both players had strong starts to their season in the Lions' opening dates of the spring games in central Florida.
Reese started in the circle for Penn State Altoona's first game of the season, a 12-6 loss to the University of Massachusetts at Dartmouth this past Saturday, March 5. She tossed 5 1/3 innings and yielded four earned runs while striking out three batters.
Reese followed that up by recording her first win of the year on Sunday, March 6, in the Lions' 9-1 victory over Capital University. The right-hander pitched a complete game in the run rule-shortened matchup, going five innings and allowing an unearned run on four hits and a walk. She also struck out three.
On the week, Reese went 1-1, pitched 10 1/3 innings, recorded six strikeouts, and posted an earned run average of 2.71.
Smith started all three of Penn State Altoona's games in its first weekend at the spring games. On Saturday against Massachusetts-Dartmouth, she hit a perfect 4-for-4 at the plate with a double and three runs batted in. Later that day, in a 7-3 loss to Bridgewater State University, she was 1-for-4 with two runs scored and a double. Smith capped her week by going 1-for-3 with an RBI and a run scored in Sunday's win over Capital.
On the week, Smith batted 6-for-11 (.545) with four RBI, three runs scored, and two doubles.
Penn State Altoona is off to a 1-2 start at The Spring Games and will return to action tomorrow, Tuesday, March 8, when the Lions will take on Delaware Valley University at 1:45 p.m. and Marietta College at 4 p.m. Both games will be held at Hancock Park in Clermont.