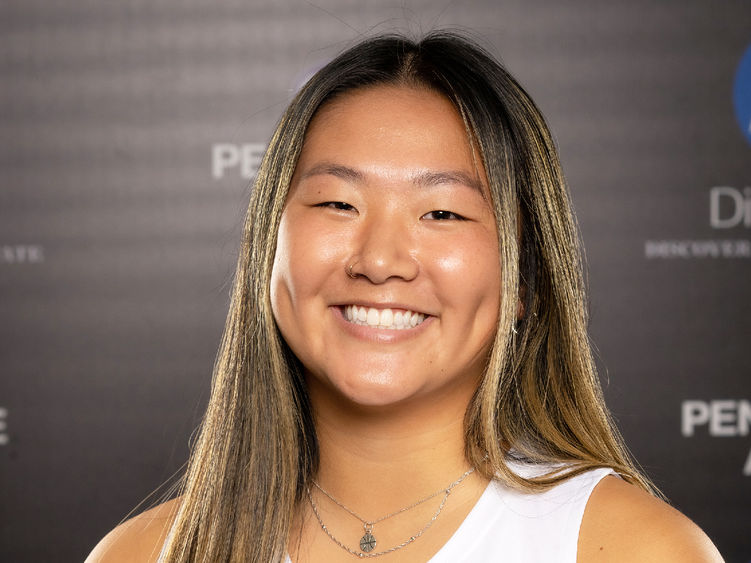 NORTH BOSTON, N.Y. — Penn State Altoona third-year guard Sarah Huston (Coatesville, Pennsylvania/Coatesville) was selected as the Allegheny Mountain Collegiate Conference's (AMCC) Player of the Week in women's basketball on Monday, Feb. 14.
Huston had a huge week for the Lions, helping her team go 2-0 in AMCC play to keep its conference postseason tournament hopes alive.
In last Wednesday night's 70-61 win at home over Pitt-Greensburg, Huston scored a career-high 26 points while grabbing 13 rebounds to notch her third double-double of the season, and she also contributed six assists, three steals, and one block. The student-athlete followed that up with another 20-plus point performance on Saturday, scoring 24 points to go along with six assists, four rebounds, and four steals in the Lions' 65-58 road victory at Hilbert College.
On the week, Huston averaged 25.0 points per game, 8.5 rebounds per game, 6.0 assists per game, 3.5 steals per game, and a 2.0 assist-to-turnover ratio. In the AMCC this season, she currently ranks second in free throw percentage (79.7), third in assists (99) and steals (59), eighth in three-point field goal percentage (31.3) and free throws made (55), and 12th in three-pointers made (26).
This is Huston's second AMCC Player of the Week award this season, as well as the second of her collegiate basketball career.
Penn State Altoona women's basketball is 7-16 overall, including 6-9 in the AMCC. The Lions' two wins last week helped the team climb the ladder in the conference standings, moving up from seventh to fifth place.
Penn State Altoona has a chance to nail down a playoff spot in its final regular-season game, as the Lions will travel to face AMCC foe Penn State Behrend at 2 p.m. this upcoming Saturday, Feb. 19.