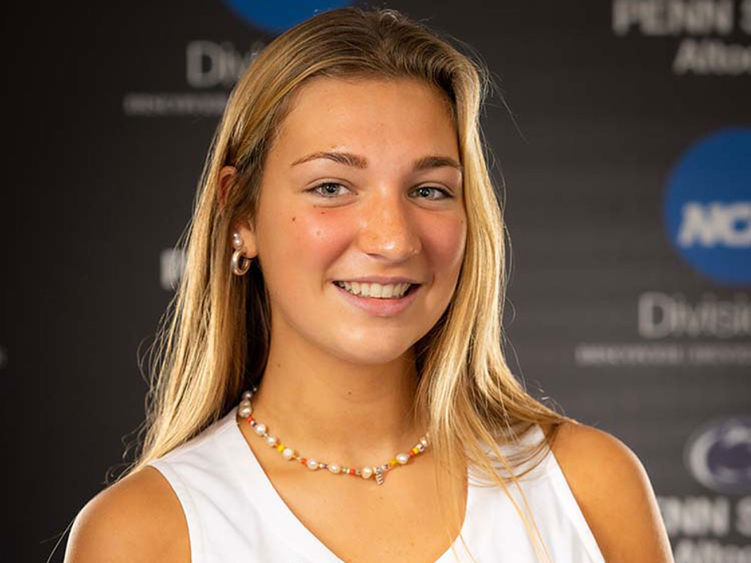 NORTH BOSTON, N.Y. — Penn State Altoona guard/forward Ellie Matthews (Kennett Square, Pennsylvania/Kennett) was selected as the Allegheny Mountain Collegiate Conference's Player of the Week in women's basketball on Monday, Jan. 31.
Matthews averaged a double-double for the Lions last week, helping lead Penn State Altoona to victories over AMCC opponents Mount Aloysius College and Pitt-Bradford.
In Wednesday night's home win over Mount Aloysius, Matthews scored 14 points and grabbed 14 rebounds while adding three assists, one steal, and one block. In Saturday's victory on the road at Pitt-Bradford, she posted season-highs with 25 points and 20 rebounds to go along with one assist and one block. Matthews' total of 20 rebounds in the game set a new Penn State Altoona women's basketball single game rebounds record.
On the week, Matthews averaged 19.5 points per game, 17.0 rebounds per game, 2.0 assists per game, and 1.0 block per game. Through 18 games this season, Matthews ranks first in the AMCC in defensive rebounds (134), fourth in blocks (23), sixth in total rebounds (160) and rebounds per game (8.9), seventh in field goals made (93), and eighth in total points scored (216).
This is Matthews' first career AMCC Player of the Week selection.
Penn State Altoona women's basketball is 5-13 overall, including 4-7 in the AMCC. The Lions' next game is tonight, Monday, Jan. 31, at home against NAIA opponent Carlow University. Tipoff is scheduled for 6 p.m.