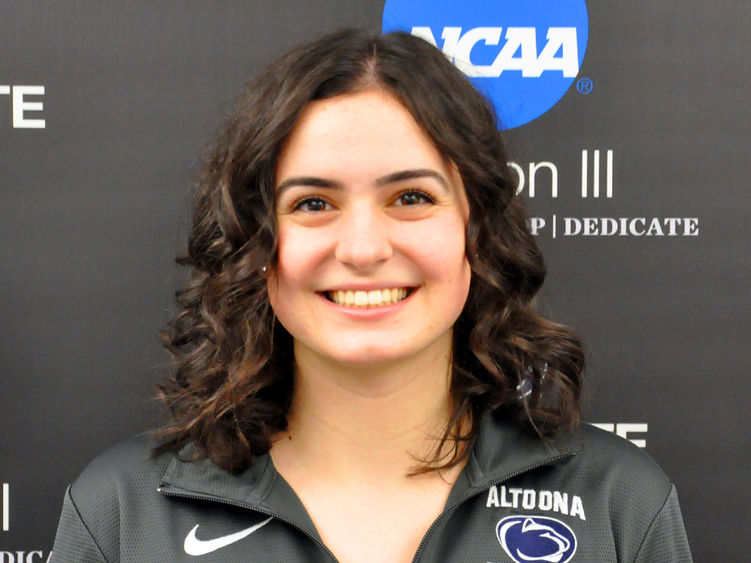 NORTH BOSTON, N.Y. — Penn State Altoona student-athlete Grace Dangelo (State College, Pennsylvania/State College) was named the Allegheny Mountain Collegiate Conference's Women's Swimmer of the Week on Monday, Jan. 17.
Dangelo helped lead the Penn State Altoona women's swimming team to a 118-49 victory at home over AMCC opponent Wells College on Saturday, recording three individual first place finishes and a setting a new team record along the way.
Dangelo's first win of Saturday's meet came in the 1,650 Yard Freestyle, in which she clocked in at 19:37.22 to establish a new Penn State Altoona women's swimming team record in that event. Her time surpassed the previous record of 19:51.91, which was held by former Lion Anne Yakubisin.
Dangelo also recorded first place finishes in the 100 Yard Backstroke, in which she posted a time of 1:05.68, and the 100 Yard Breaststroke, during which she finished in 1:16.16.
This is Dangelo's first AMCC Swimmer of the Week award this season, and it is the ninth of her collegiate career.
Penn State Altoona women's swimming's next meet is at home this Friday, Jan. 21, when the Lions will host AMCC opponent Pitt-Bradford at 6 p.m.