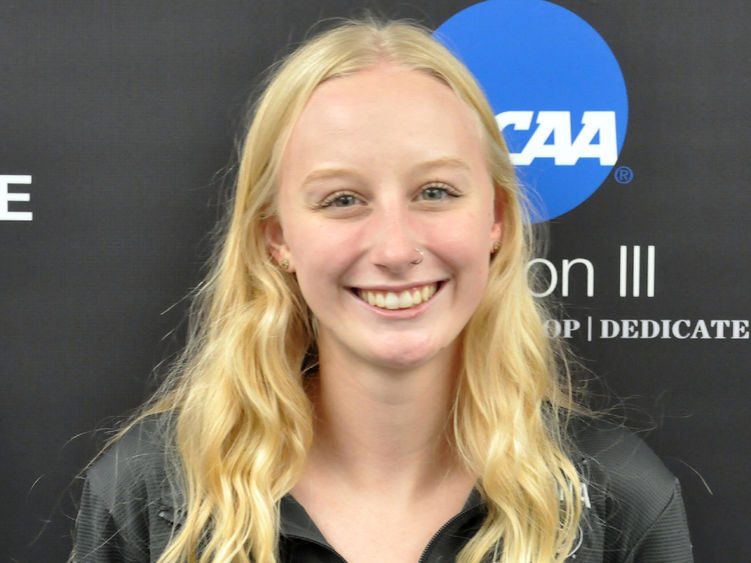 NORTH BOSTON, N.Y. — Penn State Altoona student-athlete Avery Heisey (Lancaster, Pennsylvania/Conestoga Valley) was named the Allegheny Mountain Collegiate Conference's Women's Swimmer of the Week on Monday, Nov. 22, when the league announced its slate of weekly awards.
Heisey had a hand in setting four new Penn State Altoona women's swimming team record times during last week's Oberlin College Invitational, which was held Thursday, Nov. 18 through Saturday, Nov. 20.
In the 100-Yard Freestyle, Heisey took third place in the 'A' final and set a new team record with a time of 54.08.
The junior also helped establish three new team records in relay events. In the 200-Yard Freestyle Relay, Heisey and her teammates posted a total time of 1:43.29 to take fourth place and set a new program record. In the 400-Yard Medley Relay, she was part of the group that set a new school record time of 4:21.56 and placed eighth. Heisey's third relay record came in the 400-Yard Freestyle Relay, in which she combined with her teammates to clock in at 3:47.03 to place fifth.
In addition to those four record-setting performances, Heisey also placed ninth overall and first in the 'B' final of the 50-Yard Freestyle by finishing in 25.09. Additionally, she partnered with her teammates in the 200-Yard Medley Relay to post a combined time of 1:58.27 to take ninth place.
This is Heisey's second AMCC Swimmer of the Week award this season, as well as the fourth of her collegiate career.
Penn State Altoona women's swimming placed eighth in last week's Oberlin Invitational, finishing the three-day event with a team score of 431 points. The Lions also have a 2-2 record in dual meets this season.
The women's swimming team returns to action on Saturday, Dec. 4, when it will host AMCC opponent Penn State Behrend for a dual meet at home in the Adler Natatorium.