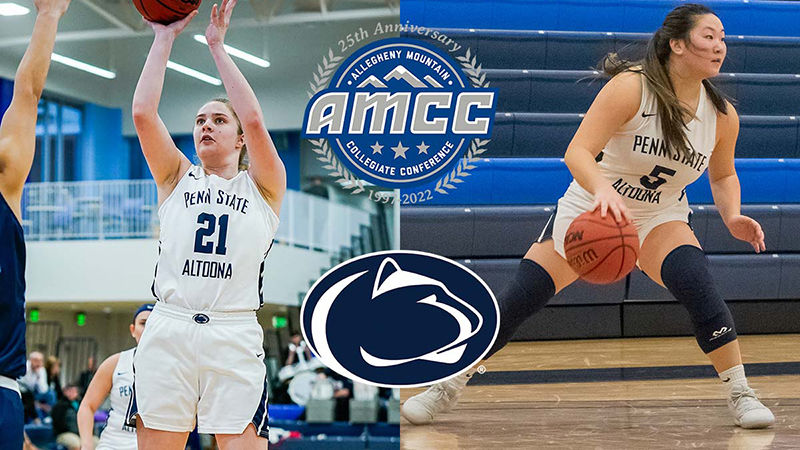 NORTH BOSTON, N.Y. — Penn State Altoona senior forward Alexis Cannistraci (Tyrone, Pennsylvania/Tyrone) was named the Allegheny Mountain Collegiate Conference's Co-Preseason Player of the Year and the women's basketball team was voted into fourth place in the conference's Preseason Coaches Poll.
La Roche University, the reigning AMCC champion, was predicted to again come in first place in the poll of the conference coaches. Penn State Behrend was picked to finish second, and Pitt-Greensburg took third place in the poll. 
In its last intercollegiate regular season, the 2019-20 campaign, the Penn State Altoona women's basketball team went 14-12 overall, including a 12-8 AMCC record that placed the Lions sixth in the conference's standings. The program debuts a new head coach this season, as Halee Adams enters her first regular season at the helm of the Penn State Altoona women's basketball team. 
Cannistraci receives her first AMCC Preseason Player of the Year honor, sharing the recognition with Pitt-Greensburg senior guard Nadege Durand. Cannistraci has been a first-team All-AMCC selection in each of the past two seasons and is coming off of a 2019-20 campaign that saw her reach the 1,000-point mark in her career, finishing the season with 1,111 career points through three seasons. In the AMCC in 2019-20, Cannistraci ranked first in free throws made (110), second in points (440), points per game (16.9), blocks (49), and blocks per game (1.9), third in defensive rebounds (171), fifth in rebounds per game (9.0) and field goals made (151), and sixth in total rebounds (234), steals per game (1.9), and minutes per game (34.4). 
Cannistraci and junior guard Sarah Huston (Coatesville, Pennsylvania/Coatesville) were also named as "Players to Watch" for Penn State Altoona this season. 
Huston finished the 2019-20 season ranked third in the AMCC in steals (59), steals per game (2.3), and free throw percentage (84.1%), 14th in free throws made (69), 17th in points per 40 minutes (16.4), 23rd in assists (50), 27th in assists per game (1.9), and 33rd in assist-to-turnover ratio (0.9).
Penn State Altoona women's basketball opens its 2021-22 schedule on the road next Wednesday, Nov. 10, traveling to face non-conference opponent Allegheny College at 6:30 p.m.