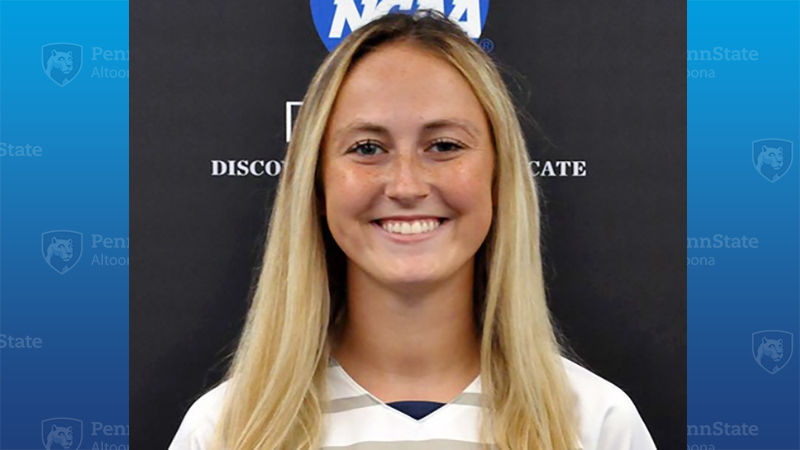 NORTH BOSTON, N.Y. — Penn State Altoona sophomore forward Mallorie Smith (Bellefonte, Pennsylvania/Bellefonte) was selected as the Allegheny Mountain Collegiate Conference's Offensive Player of the Week in women's soccer on Monday, Nov. 1.
Smith's great freshman season continued in AMCC games against Mount Aloysius College and La Roche University this past week.
In Tuesday's regular season-ending 3-1 loss at Mount Aloysius, Smith scored a goal while attempting eight shots, putting six on goal. During Saturday's 3-2 overtime win against La Roche in the first round of the AMCC Tournament, she scored two goals, including the overtime game-winner, and attempted 10 shots with six on target.
On the week, Smith scored three goals for a total of six points, and she attempted 18 shots, putting 12 shots on goal. The first-year forward currently ranks second among all players in the AMCC in shots on goal (44) and game-winning goals (4), fourth in shots attempted (69), fifth in points (29) and assists (7), and sixth in goals scored (11).
This is Smith's second AMCC Offensive Player of the Week award this season.
Penn State Altoona women's soccer is 8-9 overall, including a 5-3 mark in the AMCC. Following the Lions' first round AMCC Tournament victory on Saturday, the team advances to the semifinal round, where they will travel to Erie to face top seed Penn State Behrend in a game at 3:30 p.m. Wednesday, Nov. 3.