Sadie McConnell and KK Wolfe were selected as "players to watch"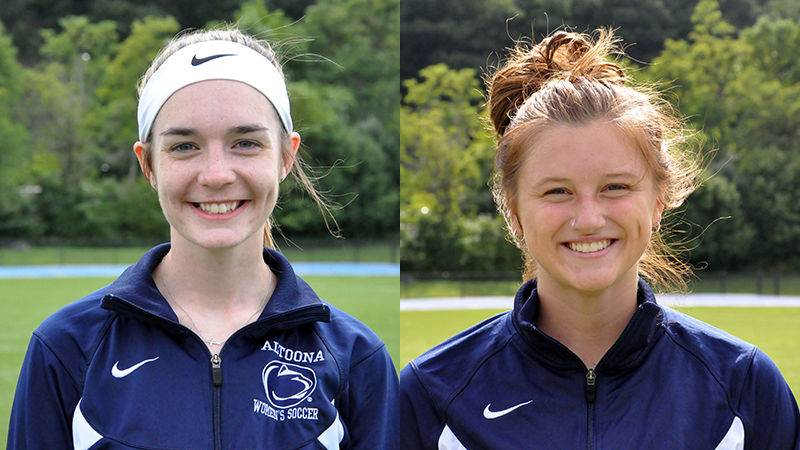 NORTH BOSTON, N.Y. — The Penn State Altoona women's soccer team was voted into fourth place in the 2021 Allegheny Mountain Collegiate Conference (AMCC) preseason coaches' poll.
Penn State Behrend was selected first, while defending conference champion Pitt-Greensburg placed second. Mount Aloysius College was voted third, with Penn State Altoona coming in fourth.
Prior to the cancellation of the fall 2020 regular season due to COVID-19, Penn State Altoona compiled a 7-9-2 overall record in 2019, including going 5-4-1 in the AMCC to finish with the program's first winning conference record since 2011. Head coach Pam Snyder Etters, in her 11th season leading the program, will look to take the next step with a 23-player roster that features a balance of returning players and new talent.
Picked as "players to watch" for the Lions this season were senior forward/midfielder Sadie McConnell (New Enterprise, Pennsylvania/Northern Bedford) and junior defender/midfielder KK Wolfe (Coatesville, Pennsylvania/Coatesville).
McConnell was a second team All-AMCC selection in 2019, when she ranked fourth in the conference in points (23) and game-winning goals (3), fifth in goals (9), eighth in shots attempted (49), and ninth in assists (5) and shots on goal (29).
Wolfe played in all 18 games for the Lions in 2019, finishing third on her team in shot attempts (26) and shots on goal (12), tying for third in goals (4), and ranking fourth in points (10).
Penn State Altoona women's soccer starts its 2021 season at home on Wednesday, Sept. 1, hosting non-conference opponent Lycoming College for a 6 p.m. game at Spring Run Stadium.