Juniors Lydia Mock and Kayla Moran were named "players to watch"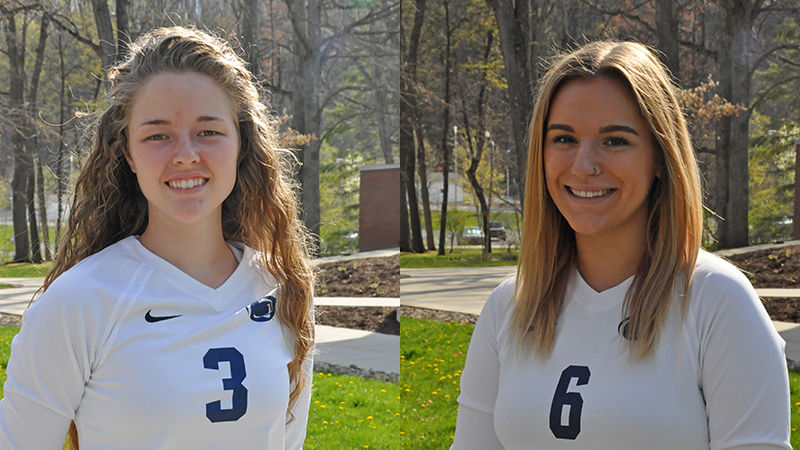 NORTH BOSTON, N.Y. — The Penn State Altoona women's volleyball team was selected third in the 2021 edition of the Allegheny Mountain Collegiate Conference (AMCC) preseason coaches' poll.
Penn State Behrend, the 2019 AMCC champion, was predicted to repeat as they were voted into the top spot in the poll. Pitt-Bradford came in second place, with Penn State Altoona being picked third.
Penn State Altoona went 12-13 overall in 2019, including going 7-3 in the AMCC. The Lions earned a conference tournament berth that season, reaching the semifinal round before going on to pick up a bid to compete in the Eastern College Athletic Conference's Division III Tournament.
After last year's regular season was canceled due to COVID-19, Penn State Altoona enters this fall with a core of eight returning players and 10 newcomers. Head coach Phil Peterman returns for his 13th season at the helm of the program.
Named as "players to watch" in the poll for Penn State Altoona were junior outside hitter Lydia Mock (Alum Bank, Pennsylvania/Chestnut Ridge) and junior setter Kayla Moran (Boalsburg, Pennsylvania/State College).
Mock was the AMCC Newcomer of the Year in 2019, also taking second-team all-conference honors that fall. She finished her season eighth in the AMCC in digs per set (3.97), ninth in total digs (302), 11th in kills per set (2.42), 12th in points per set (2.9), and 18th in total points (219.0) and total kills (184).
Moran played in all 25 matches for the Lions in 2019, finishing 12th in the AMCC in assists (283) and 13th in assists per set (3.33). She also recorded 157 digs, averaging 1.85 digs per set, and she compiled a team-best .277 attack percentage.
Penn State Altoona women's volleyball opens its 2021 season on the road Saturday, Sept. 4, competing against Gettysburg College and Penn State Berks in the annual Gettysburg Battlefield Classic.