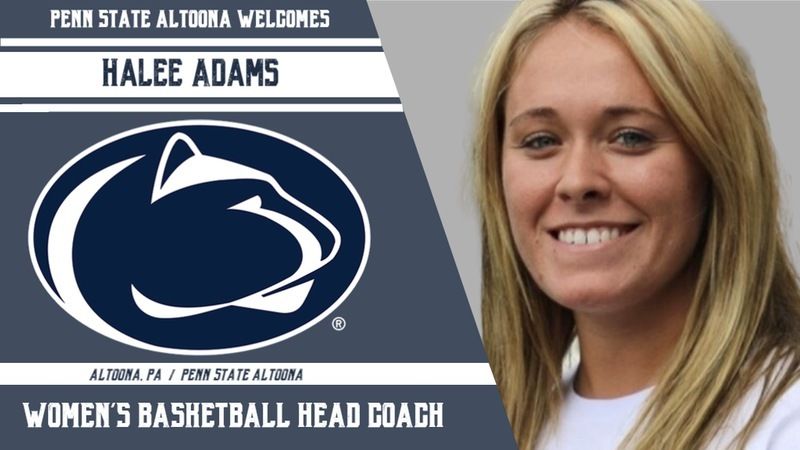 ALTOONA, Pa. — Penn State Altoona Athletics announced on Monday the hiring of Halee Adams to be the head coach of its NCAA Division III women's basketball program.
Adams is no stranger to finding success in the local basketball scene. She was a four-year standout player at Bishop Guilfoyle High School in Altoona before extending her career to the collegiate level at Division I Saint Francis University, in Pennsylvania. Adams has also served as an assistant women's basketball coach at Mount Aloysius College.
"There is no doubt about the dedication Halee has for basketball, and I am excited for her to bring that passion to our program. She has a good network of support in our area and will be able to recruit locally and regionally," said Penn State Altoona Director of Athletics Brent Baird. "While taking over a college sports program can be challenging under normal circumstances, our current pandemic situation makes it all the more difficult. I have no doubt that Halee is up to the challenge."
Adams becomes the fifth head coach in the NCAA era of Penn State Altoona's women's basketball program, succeeding Casey Wilt, who stepped down earlier this year following a seven-year stint at the helm of the program.
This will be Adams' first head coaching position.
"I am so excited and thankful to be given this opportunity to coach at Penn State Altoona, a school I have grown up around," said Adams. "I look forward to meeting the team and working with them to build on last year's winning season."
Adams' playing career took flight at Bishop Guilfoyle, where she received numerous athletic accolades during her four years with the Lady Marauders basketball team, including being a first team all-state selection, a Laurel Highlands Athletic Conference all-conference pick, and becoming the first-ever high school sophomore to take Altoona Mirror Player of the Year honors. Adams helped lead Bishop Guilfoyle to a District 6 championship during her senior year, as well as a PIAA Class A state title in her freshman season.
Adams' performance on the court led her to St. Francis, where she appeared in 87 games and made 79 starts for the Red Flash from 2013-17. She was a team captain in 2016 and 2017 while earning Student Scholar Athlete Awards in 2014-17.
After graduating from St. Francis in 2017 with a degree in business management/marketing, Adams took a position as an assistant women's basketball coach, teacher, and resident assistant at the Putnam Science Academy in Putnam, Connecticut. Her basketball duties at Putnam included coaching ninth grade post-graduate girls with an interest in playing collegiately, conducting individual workouts with athletes, and recruiting potential prep school basketball players.
In 2018, Adams was hired as the assistant women's basketball coach at Division III Mt. Aloysius. During a one-year tenure with the Lady Mounties, she provided student-athletes with coaching instruction while also assisting with the program's recruiting efforts.
Adams earned an MBA in May 2020 from Mt. Aloysius. She is a native of Hollidaysburg and currently resides in Altoona.