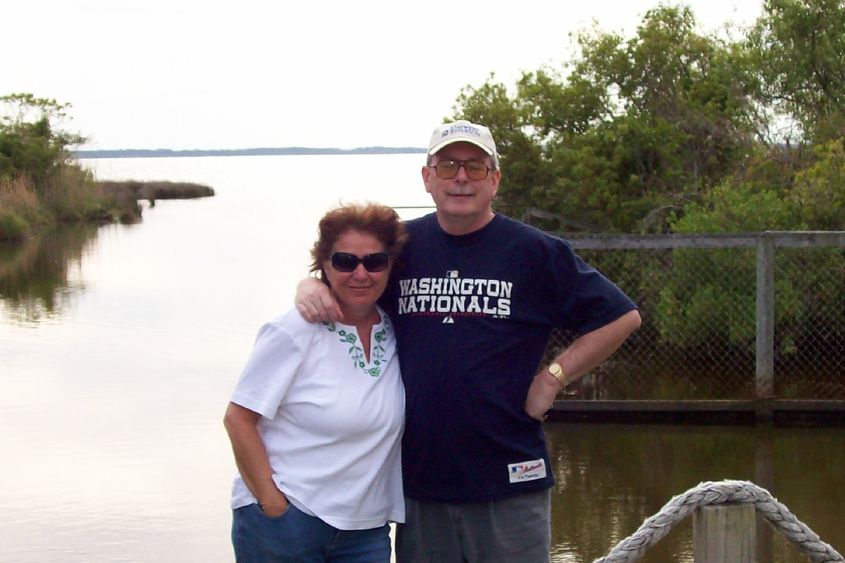 UNIVERSITY PARK, Pa.—Penn State alumnus Dennis McDonald has made a $1.6 million gift -- through an estate commitment and outright support -- to promote student opportunities within Penn State Altoona, the Smeal College of Business, the University Libraries and the Penn State Blue Band. The gift honors Dennis and his late wife Janet's pride in their alma mater and in the campus where they met.
The majority of the commitment will go toward a scholarship endowment at Penn State Altoona. Dennis said he hopes to help alleviate financial hardships that might otherwise prevent students from enrolling at Penn State or taking full advantage of the college experience.
"Janet and I both came from working-class families," explained Dennis McDonald, whose father worked at Bell Telephone in Altoona to support his four children. Janet's father worked for the Pennsylvania Railroad and passed away when Janet was only 14 years old. "Affording a college education -- even back in those lower-cost days -- was a stretch, so being able to attend Penn State Altoona and live at home for a few years made a big difference."
Both born and raised in Altoona, Dennis and Janet met as freshman at Penn State Altoona. They transferred to University Park, where Dennis earned his accounting degree in 1974, and then moved to the Washington, DC, area to begin their careers and raise their daughter, Heather. In 1987, Dennis joined Uniwest, a construction and real estate company in northern Virginia, and continues to serve as the company's senior vice president and chief financial officer.
But even as jobs took them away from Pennsylvania, the McDonalds remained proud of their University, said Dennis McDonald. "We were married at the Penn State Altoona campus chapel in 1975. We loved our time at Penn State -- Janet probably even more than me!" he recalled. "She was very fun and outgoing, and her apartment was always the center of activity."
Dennis said the couple had talked about creating a scholarship at Penn State Altoona before Janet died in 2018. They were both interested in finding a way to give back to the University and create opportunities for future students in the region.
"When Janet passed away unexpectedly, that provided additional impetus to do something specific in terms of estate planning and to include Penn State in those plans," Dennis McDonald explained.
Dennis's support will create the Dennis and Janet McDonald Scholarship at Penn State Altoona with a $100,000 outright gift, and he has committed an additional $1.25 million to the fund through his living trust. The Dennis and Janet McDonald Scholarship will provide awards to Penn State Altoona students who have financial need, with first preference to students from the Altoona area, like the McDonalds.
"Dennis and Janet represent the very best of our Penn State Altoona community -- people who are hardworking, successful, and generous," said Lori J. Bechtel-Wherry, Penn State Altoona's chancellor and dean. "With this scholarship, Dennis is providing support that will be critical to our students' ability to stay enrolled and earn a degree that will change their lives. Moreover, his generosity will send a message to all recipients that our alumni care about students and want to help them succeed."
Dennis has also pledged an outright gift of $50,000 to create the Dennis McDonald Scholarship in the Smeal College of Business, with an additional $100,000 committed to the award in his estate plans. The Dennis McDonald Scholarship will provide lasting support to Smeal students with financial need, and he has established a first preference for business students from the Altoona region.
"Scholarships free our students to focus on their studies and the myriad co-curricular opportunities available to them, and I am grateful to Mr. McDonald for his support," said Charles H. Whiteman, dean of the Smeal College of Business.
In addition, Dennis has created the Dennis and Janet McDonald Textbook and Educational Resources Endowment in the University Libraries and the Dennis and Janet McDonald Legacy Fund for the Penn State Blue Band, each with an outright gift of $25,000 and an estate commitment of $25,000. The Dennis and Janet McDonald Textbook and Educational Resources Endowment will provide low or no-cost textbooks and classroom resources to students who would otherwise have trouble affording them. The Dennis and Janet McDonald Legacy Fund will be used to support the operation and educational initiatives of the Penn State Blue Band, including equipment and instructional supplies, in addition to travel expenses.
"I remember how discouraging it was to pay for tuition, and then get hit with a bill every quarter for the price of textbooks," explained Dennis. "So that's why I wanted to help students afford those books."
"And Janet and I always loved Penn State football and the Blue Band," he continued. "When we couldn't go to games in person, Janet would set up a tailgate in our family room! And the Blue Band is such a big part of the Beaver Stadium experience. These kids practice throughout the week and play their hearts out on Saturday afternoons. It's obvious they love the music and love entertaining people."
Dennis hopes that the gift will help to foster special experiences across the University and serve as a lasting tribute to the couple's commitment to their alma mater.
"Janet and I loved our time at Penn State, and we have certainly appreciated the opportunities a Penn State education provided to us," said Dennis McDonald.
The McDonalds' scholarships and endowed funds will advance "A Greater Penn State for 21st Century Excellence," a focused campaign that seeks to elevate Penn State's position as a leading public university in a world defined by rapid change and global connections. With the support of alumni and friends, "A Greater Penn State" seeks to fulfill the three key imperatives of a 21st century public university: keeping the doors to higher education open to hard-working students regardless of financial well-being; creating transformative experiences that go beyond the classroom; and impacting the world by fueling discovery, innovation and entrepreneurship. To learn more about "A Greater Penn State for 21st Century Excellence," visit greaterpennstate.psu.edu.