The Sustainability Institute at Penn State will host the Pennsylvania session online on April 7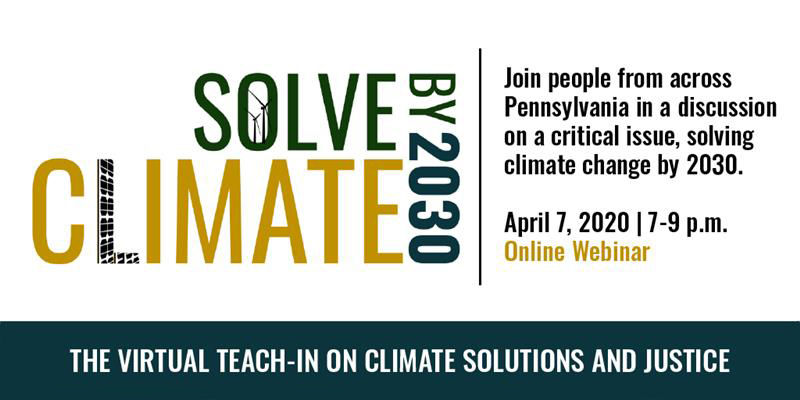 UNIVERSITY PARK, Pa. — On April 7, from 7 to 8 p.m., the Sustainability Institute at Penn State will host the online Pennsylvania session of "Solve Climate by 2030," a nationwide, university-hosted, virtual teach-in on climate solutions and justice.
For one evening, attendees from all 50 states, Washington, D.C., and Puerto Rico will tune into power dialogs to explore and discuss state and local actions for solving climate change by 2030. The event is organized by the Bard Center for Environmental Policy, with various universities from across the nation hosting webinars in their individual states.
"As part of the state's land-grant university, Penn State's Sustainability Institute is excited to provide all Pennsylvanians — kids, teachers, government officials and leaders of all kinds — the opportunity to hear from some of our state's best climate champions about what we can do as a commonwealth," said Peter Buck, academic programs manager at the institute. "Pennsylvania has a unique and powerful role to play in taking on the climate challenge. We are a major energy producer, a leader in agriculture and one of the most forested states in the union. That makes us ripe for changes that can make us healthier, more secure and prosperous."
The event is free to join, and those interested in attending are encouraged to register prior to the webinar via the Solve Climate by 2030 website. Each state has a separate registration page, and Pennsylvania participants can register here: http://www.solveclimateby2030.org/. The virtual teach-in will be live-streamed via Zoom and the Sustainability Institute's Facebook page.
Following Pennsylvania's hour-long, webinar power dialog, local communities are invited to have their own conversations offline or in their own online spaces for the next hour. Panelists include: