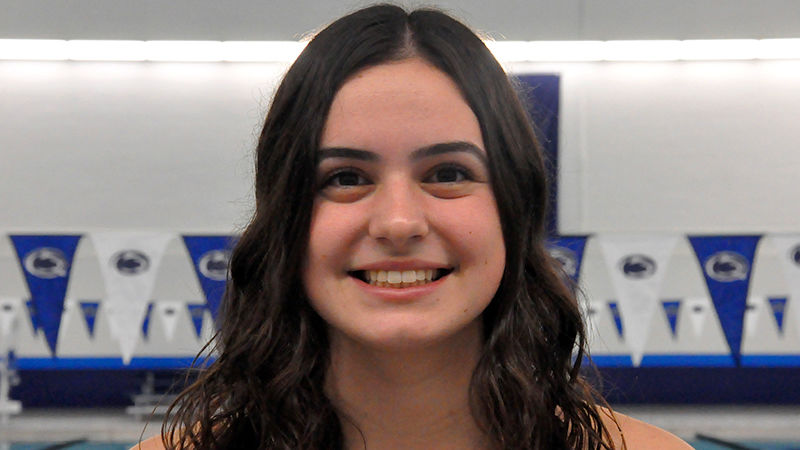 NORTH BOSTON, N.Y. — Penn State Altoona freshman Grace Dangelo (State College, Pennsylvania/State College) was announced as the Allegheny Mountain Collegiate Conference's (AMCC) Women's Swimmer of the Week for the fourth time this season on Monday, Nov. 25.
Dangelo continued her stellar freshman season with the Penn State Altoona women's swimming program this past weekend in the three-day Oberlin College Invitational, during which she accounted for all 79 of her team's points, set two new program records, and also set one new AMCC record.
In Saturday evening's session, Dangelo took first place in the 'A' final for the 200 Yard Butterfly, securing 32 points and finishing in 2:12.32 to set a new Penn State Altoona women's swimming program record, as well as a new AMCC conference-wide record in that event. Also in Saturday's session, the freshman took third place in the 200 Yard IM 'A' final to score 27 points, clocking in at 2:12.32 to break her own record and set a new Lady Lions record in that swim.
During Sunday night's session, Dangelo won the 'B' final in the 100 Yard Butterfly, placing ninth overall with a time of 59.67 to score 20 points.
As a team, the Lady Lions placed 13th with 79 points at the conclusion of the Oberlin Invitational.
This is Dangelo's fourth AMCC Women's Swimmer of the Week award this season, and it is also the sixth time that a Penn State Altoona women's swimmer has earned the recognition overall this year.
The Penn State Altoona women's swimming team returns to action with a home meet at 1 p.m. Saturday, Dec. 7, against AMCC opponent Penn State Behrend.