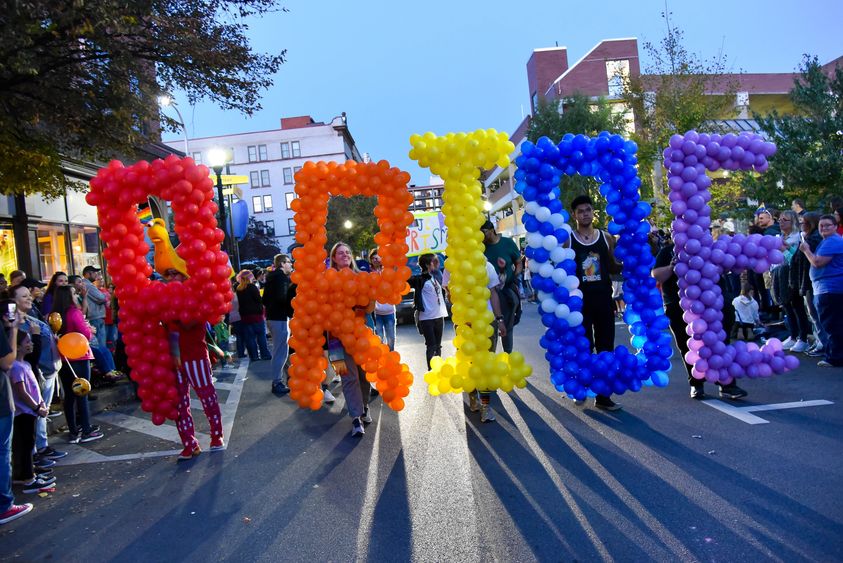 It was an offhand comment that Amarillys Aponte-Lee made back in the summer, but it was all it took to kick-start what would become a huge campus and community event.
Aponte-Lee, president of Penn State Altoona's LGBTQ organization, Pride Alliance, was working on campus while Pride parades were taking place across the nation. She remarked how great it would be for Altoona to have its own parade.
Well, why couldn't it?
Members of Pride Alliance decided that they wanted to make it happen, and something that might normally take a year to plan was pulled together in about three months. On Friday, Oct. 11, to coincide with National Coming Out Day, the first Pride Parade in Altoona brought its streets alive with color and comradery.
"We know that the LGBTQ community is in this area," says Amy Chen, Pride Alliance vice president. "Maybe some of them were too afraid to speak up, or they felt alone. We wanted to give them a platform to be themselves and create an event where the entire community could come together and support each other."
"I have friends in Blair County who are still worried about coming out because they're scared of being disowned or of bigotry," aded Aponte-Lee. "We wanted to show anyone who is struggling that they're accepted, welcomed and loved no matter what. That's what I wanted people to take away from this."
Aponte-Lee says at first she was worried about backlash, but the outpouring of support was immediate and steady. Penn State Altoona student organizations and sports groups, other colleges, community organizations, churches, businesses, and individuals all stepped up wanting to help and participate, including UPMC Altoona, which sponsored the entire event. "There was so much positivity from so many places. The support confirmed to me that what we were doing was important and wanted."
"There was some negative talk," admited Sue Patterson, director of student diversity and inclusion programming at Penn State Altoona. "I actually expected that to be the big part of what I would have to deal with, but it barely even registered because there was so much positivity. To see the students get that much support was just amazing."
Fourteen Penn State Altoona groups participated in the parade including Student Affairs, Student Government, women's softball, the ice hockey club, and residence halls. University Park, University of Pitt-Johnstown, and Juniata College were represented along with 28 community units and nonprofit agencies like Free Mom Hugs, Saint Luke's Episcopal Church, the State College roller derby league, and central Pennsylvania support groups.
Members of Pride Alliance were heartened to see the turnout, which was estimated at around 2,500 people of all ages, races, genders, and identities.
"It's monumental, especially for this area," stated Madison Lippert, a sophomore and Pride Alliance member. "I think it gives the LGBTQ community a great boost. It's good to see your city back you up."
"We worked so hard, so many nights and weekends to make this happen," said Jenna Cumming. "I think it could be life changing for a lot of people. It gives us and our allies hope of acceptance and of moving forward."
"I honestly never thought I would be a part of history, in general. I just thought I'd just wing my way through life, and now, to make a huge impact like this is just outstanding," sophomore Ben Feathers said.
Pride Alliance members were also hoping to reach parts of the community that aren't so accepting. They thought the parade was a way to create a fun, inclusive atmosphere that could help educate those who don't understand or might be afraid of LGBTQ. "We know there are people who aren't supportive. We wanted to show them that we are human, that we are all the same, and even with different opinions and beliefs, we can still support each other," stated Chen. "We're people too. We're here, we've been here, you've been around us, we're normal just like you," added Aponte-Lee.
After the parade, a ceremony and celebration were held in Rossman Park. Todd Snovel, executive director of the Pennsylvania Governor's Commission on LGBTQ issues, was the guest speaker. The commission is the first of its kind in the nation, with the goal of implementing comprehensive LGBTQ nondiscrimination in the state.
Pride Alliance members feel confident the parade will become an annual event, as well as even bigger with each year. In fact, community groups have already begun to sign up to participate next year.
"I am so proud and excited for these students and for this community," said Patterson. "I got a message from a 14-year-old that read 'I didn't know that I fit in this community, but you're showing me there's a place for me.' I got a message from an elderly person who said, 'I never thought there was hope for this and for anybody to know who I was.' It's all because students said can we do this. They banded together with our community to make it happen."
Visit https://www.flickr.com/photos/151761909@N04/ to see more photos from the parade.