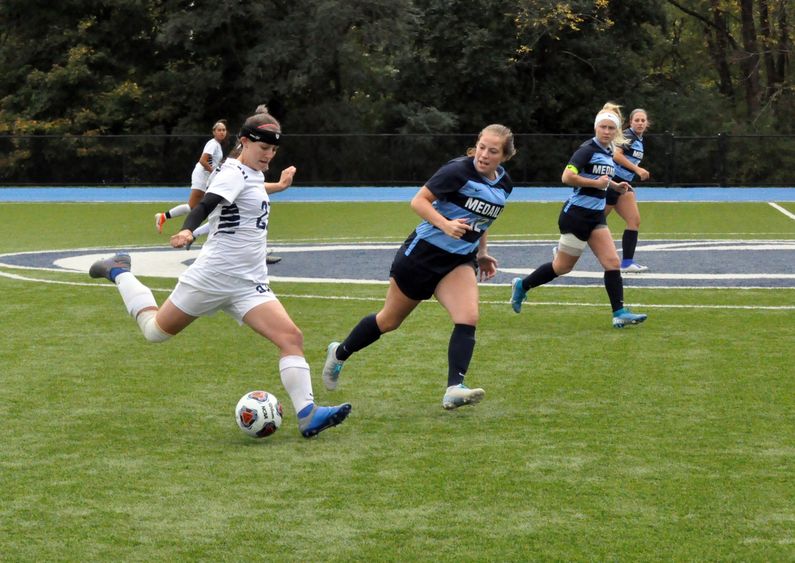 Men's Soccer
Franciscan University 2, Penn State Altoona 0
Medaille College 4, Penn State Altoona 1
Freshman midfielder Jinkwon Song (Uiwang, Korea/McLean) scored his first collegiate goal in the Lions' 4-1 loss to Allegheny Mountain Collegiate Conference opponent Medaille on Saturday, Oct. 5.
Men's Tennis
Penn State Altoona 8, Pitt-Bradford 1
Pitt-Greensburg 8, Penn State Altoona 1
Freshman Ben Maus (Collegeville, Pennsylvania/Perkiomen Valley) went 2-0 in singles matches and 1-1 in doubles matches in the Lions' competitions against AMCC opponents Pitt-Bradford and Pitt-Greensburg.
Women's Soccer
Penn State Altoona 1, Franciscan University 1 (2 OT)
Penn State Altoona 4, Medaille College 1
Coming off of a week during which she was selected the AMCC Offensive Player of the Week, midfielder Kierra Irwin (Altoona, Pennsylvania/Altoona) continued her strong play with two goals and two assists in two games for the Lady Lions last week against AMCC opponents Franciscan and Medaille.
Women's Tennis
Penn State Altoona 6, La Roche University 3
Pitt-Bradford 6, Penn State Altoona 3
Penn State Altoona 8, Pitt-Greensburg 1
Junior Sophia Girol (South Park, Pennsylvania/South Park) went undefeated for the Lady Lions in matches against AMCC foes La Roche, Pitt-Bradford, and Pitt-Greensburg, going 3-0 in singles and 3-0 in doubles.
Women's Volleyball
Penn State Altoona 3, Waynesburg University 1
Freshman outside hitter Jenna Bauer (Ebensburg, Pennsylvania/Central Cambria) led the Lady Lions in kills with 13 against Waynesburg on Thursday, Oct. 3, while senior outside hitter Lauren Diller (Chambersburg, Pennsylvania/Chambersburg) totaled a team-high 14 digs in the match.