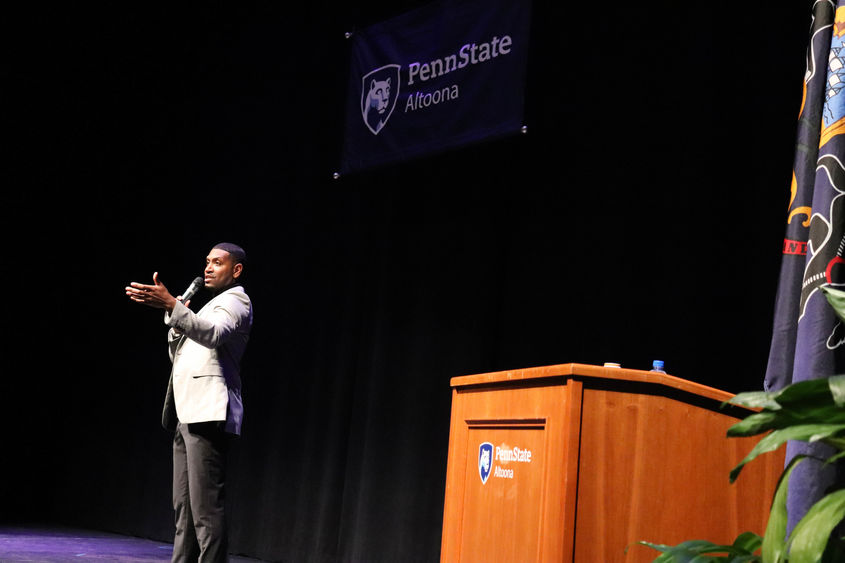 "From where I started, growing up in Baltimore, to where I ended up, on the Broadway stage, it's been passion that has been my compass on this road of life. There really is no destination or finish line, however I find that a great deal of value comes from the pit stops along the way, where you find purpose in what you do.
Purpose is your personal reason 'why.' Try to find that reason everywhere, even in the background of your life. Of all the amazing things I've gotten to do, my real satisfaction didn't happen until I began walking with purpose."
- Bryan Terrell Clark, in his Distinguished Speaker Series presentation, "From Baltimore to Broadway," held on campus Monday, Feb. 18.
An actor and singer-songwriter, Clark is known best for his starring role as George Washington in "Hamilton: An American Musical" on Broadway. Currently on a speaking tour, Clark shares personal stories of struggle and success and what he calls "life hacks."
"One of my most important life hacks is to find a way to be happy every day, whatever happiness looks like for you. Life will become easier and will become a lot more peaceful when you stop putting the responsibility for happiness on circumstance and other people. You stop becoming the passenger in your own life, and you step into the driver's seat.
I want to spread a message of hope. Remember that no matter where you are, no matter what you've gone through, no matter what you're facing, as long as you keep going, as long as you still have breath in your body, there's hope on the other side. By sharing my journey, I hope that others will be encouraged and inspired, and remember to hold onto hope."