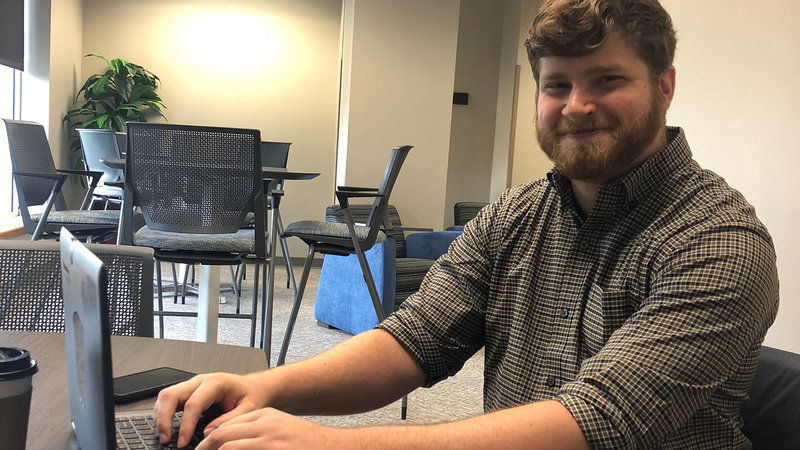 ALTOONA, Pa. — It sounds cliche that networking pays off, but Adam Brogdon will tell you that it landed him in South Korea and afforded him several amazing opportunities.
Brogdon is a senior at Penn State Altoona, graduating in December with a bachelor of science in security and risk analysis (SRA). He's also president of the Cyber Security Club. Brogdon started out as a psychology major, but after a break from school, decided it wasn't right for him. He returned to college as an SRA major and took advantage of the many opportunities offered by his professors and through the club.
Brogdon joined a team to compete in last year's Grimm HAX Competition, a company-sponsored competition to solve cyber-security challenges. At the same time, Grimm was sponsoring five students from South Korea on their J-1 Visas for an exchange program. Brogdon worked with them and showed them around the area. Brogdon was offered an internship with Grimm and was invited to present at the International Conference on Software Security and Assurance in South Korea, where he presented his proposal, "Capture The Flag Competition." While at the conference, Brogdon met and networked with an Austrian team that was also presenting. Not only is Brogdon's "Capture The Flag " moving forward in the competition, but he will join forces with his new Austrian friends to further develop it for real life competition.
And it doesn't stop there. Brogdon is in the process of applying to graduate school at Stoneybrook University's campus in Incheon, South Korea, starting in January 2019, to earn his master's degree in computer science.
As Brogdon completes his undergraduate studies at Penn State Altoona, he will leave behind a big footprint. He has restructured the old SRA Club into the Cyber Security Club which has weekly club meetings during Tuesday's common hour in the SRA lounge. He implemented Thursday night JAMs which are tutorial courses on new programs and is helping to prepare a team for this year's Grimm Hackathon. He also added a weekend lock-in competition called the Collegiate Cyber Defense Competition that will take place in March.
For more information about the Cyber Security Club or any of the additional competitions and JAM sessions, email Brogdon at [email protected].