Center designed for students to easily access tools and services they may need during their time at the college, allowing them to get help and get ahead in their education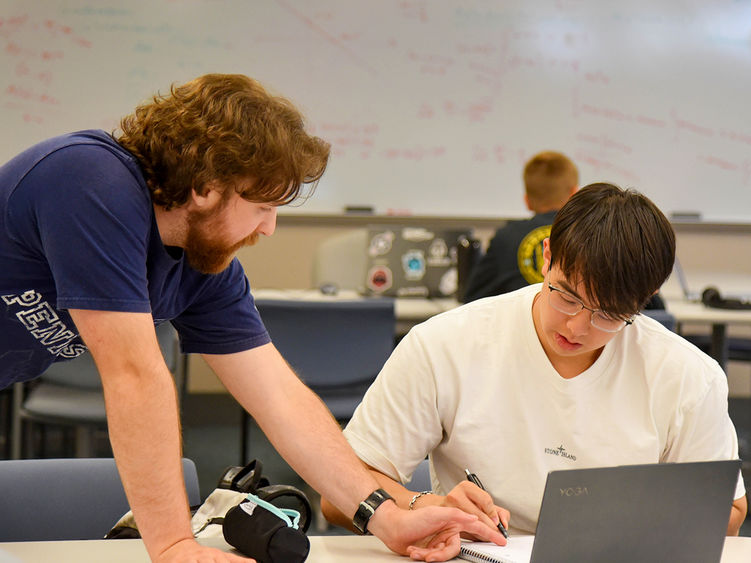 ALTOONA, Pa. — The fall 2023 semester came with the launch of Penn State Altoona's new Student Success Center (SSC).
For years, academic leaders at the college had been looking for ways to better integrate and utilize existing support services to continue meeting the myriad and holistic needs of students. With the goal of providing a welcoming, inclusive environment, the SSC is a collaborative and responsive approach to assisting students during their time at Penn State Altoona. Its one-stop model provides a seamless experience for students to access a range of support services and programs that research has shown will help them succeed on campus and beyond.
The center offers tutoring and writing support, peer mentoring, advising, advocacy, internships, and disability resources, all of which have been designed to enhance the academic, professional and personal development of students and improve the retention and graduation rates of the college.
The SSC offers opportunities to break down silos and work together in new ways to comprehensively support our students. For example, we kicked off the fall with a broad array of programming that touched on several topics related to student success, including time management, goal-setting, test-taking and reading comprehension strategies.

—Peter Moran , associate dean of policy and planning, Penn State Altoona
A variety of workshops are scheduled for the remainder of the fall semester on topics including time management, coping with the unexpected, improving test-taking skills and building a successful support team.
In addition, the center hosts weekly ongoing events such as "Arts for Wellness," which offers creative artmaking to help calm stress, practice mindfulness, or just for fun. "No One Journeys Alone" offers a safe space for those dealing with grief.
Another resource located in the SSC is "Lion Guidez," a peer mentoring program. Trained upperclassmen are paired with incoming first-year students before the start of the fall semester and support them throughout the year. New students meet with their mentors on a regular schedule, benefiting from the experiences of their peers.
Lion Guidez also staffs the SSC reception desk, available to answer questions about University life, assist and connect other students to campus resources, and help them become more engaged in Penn State Altoona's vibrant campus community.
There is no greater testament to Penn State Altoona's ongoing commitment to student progression, timely graduation, and ultimate success than that of our Student Success Center. Our investment in the SSC, the welcome, and the wealth of resources it provides is for a single purpose: to do all within our power to help our young persons thrive over their tenures on campus.

—Ron Darbeau , chancellor and dean, Penn State Altoona
SSC leaders say they are already seeing encouraging progress since the establishment of the center. Erin Shumac, student success advocate for the center, notes that there is a noticeable increase in student traffic. She adds that news of its inception is spreading, and both new and returning students are utilizing the resources.
"The center is becoming a beacon of support and empowerment for our student community," Shumac said.
In addition to her other advocate duties, Shumac will collaborate with colleagues across the University to assist Penn State Altoona in maximizing the benefits of the University's Starfish communication and support tool. She will take the lead in developing the infrastructure for the Student Success Center, with a primary focus on enhancing its functionality. This initiative is ultimately geared towards improving student success outcomes. By strengthening Starfish, Penn State Altoona will not only enhance its capacity to monitor and track students but also aid in a more proactive approach in efforts to help them succeed.
My role as student success advocate is an absolute privilege. It's a position of purpose and fulfillment. I am enthusiastic about cultivating connections with my colleagues and students for high impact practices that promote the transformative power of education. We are confident that the Student Success Center will grow as a vital resource for our students' academic and personal development. Together, we are supporting a brighter future for our campus community.

—Erin Shumac , student success advocate, Penn State Altoona
Academic leaders said they are proud of the center and are hopeful students will continue utilizing it for the resources and programs that address questions and support during their journey at Penn State Altoona.
To that end, a variety of metrics and methods to assess the effectiveness of student success efforts are in place, including traditional quantitative measures, such as retention, persistence, and graduation rates, as well as qualitative data aimed at capturing the lived experiences of students and their perceptions of their success. The SSC will also survey students to gauge their satisfaction and solicit feedback on the program. The diverse range of qualitative and quantitative data compiled by the SSC will support efforts to leverage insights to identify and remove barriers to student success.
Students are encouraged to visit the Student Success Center in person in room 125 on the lower level of Eiche Library. They can also learn more about the services and programs by visiting the Student Success Center website. In addition, they can submit questions through an online form, by email, or by calling 814-940-3343.