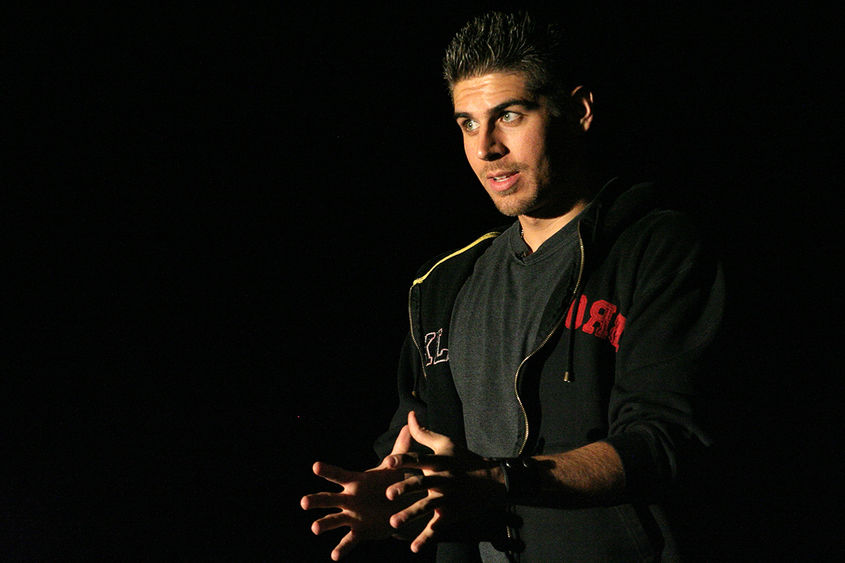 Award-winning spoken word poet Carlos Andrés Gómez, star of HBO's Def Poetry and the Spike Lee film Inside Man with Denzel Washington, will perform Monday, September 17, 2018, at 7:00 p.m. in the Pond View Lounge of the Slep Student Center. Gómez will appear as part of the Majority of One College Tour.
Hailing from New York City, Gómez has performed at more than 300 colleges and universities since 2006. Author of the groundbreaking memoir Man Up: Reimagining Modern Manhood (Gotham Books/Penguin Random House), he has been featured on NPR, TEDx, Upworthy, Central Park SummerStage, and, most recently, showcased his talent in MTV's first ever poetry slam alongside hip hop luminary Talib Kweli. A former social worker and public school teacher, Gómez first made a name for himself by winning at the Apollo Theater's celebrated Amateur Night and later as a member of the renowned Nuyorican Poets Café's slam team. In 2008, he collaborated with Tony Award-winning tap dance legend Savion Glover on Broadway.
"It's amazing to connect with such diverse audiences along this journey," says Gómez, "from a working-class neighborhood in San Antonio to a rural town in Indiana to the beach breezes of Miami to a theater on Broadway. It's the ultimate testament to creativity bringing people together, building a new vision for our world. This is why I do art."
The tour's title, inspired by what Gómez strives to achieve through his work, encourages each person to recognize the powerful agent for change they might be. As Gómez states, "It's not that one person can make a difference, each one of us does – for better or worse. The question then is: which one will you be?"
The event is free and open to the public. For more about Gómez, visit his Facebook page.