Tom and Mary Ellen Litzinger establish Open Doors Scholarship in the College of Engineering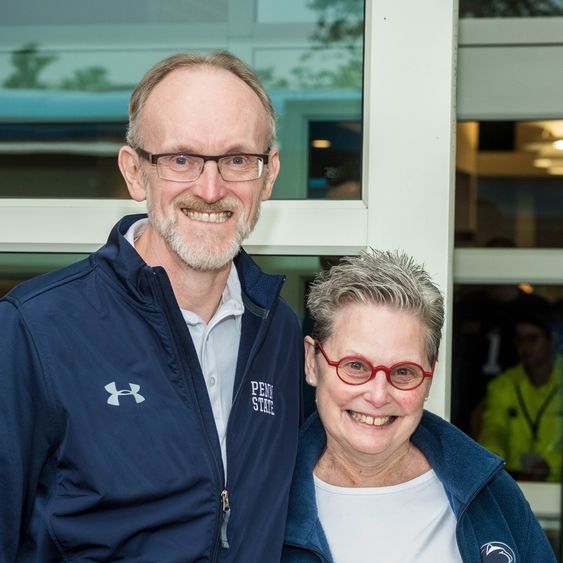 UNIVERSITY PARK, Pa. — Penn State College of Engineering's Tom Litzinger and his wife, Mary Ellen, have contributed $30,000 to fund and endow the Thomas A. and Mary Ellen Litzinger Open Doors Scholarship in the College of Engineering.
"In so many ways, Tom and Mary Ellen Litzinger represent what makes Penn State great," Justin Schwartz, Harold and Inge Marcus Dean of Engineering, said. "Their commitment to the University, our students, and our overarching culture is a living and breathing demonstration of our core values of integrity, respect, responsibility, discovery, excellence and community. This generous gift only furthers their place in the history of Penn State Engineering. I cannot thank them enough for all that they have done."
Their gift will be matched 2:1 by Penn State — making it a total of $90,000 — and will support undergraduate students in the College of Engineering who meet financial need requirements through the Student Transitional Experiences Program (STEP), a summer transition program for students who are making the junior year transition to University Park after starting at another Penn State campus. Through coursework, mentoring, and a six-week workshop series, students become familiar with University Park people, opportunities, and resources.
"When we looked at the different scholarships that were available, STEP really spoke to us because I was a Penn Stater who completed my first two years at Penn State Altoona and then came to the University Park campus and had to negotiate that transition, so STEP was the program that was most personally appealing," Tom Litzinger said.
He also experienced firsthand the impact scholarships make on a college education.
"I still remember getting my first scholarship," he said. "I was starting my second year at the Altoona campus and it was a Kunkle Family Scholarship. And I still have this memory of opening this little 5x7 letter with not a whole lot of text on it, and it was a $300 scholarship, and in those days, that was more than one quarter's worth of tuition. I continued to get scholarships throughout my college education, which allowed me to graduate nearly debt free. It made a big difference because I'm from a working class family. That spoke to me a lot, and part of the reason why I'm a professor and why I came to Penn State was the connection to students and wanting to help students. And so the scholarship was just another way to do that."
The Litzingers are strong philanthropic supporters of Penn State. In addition to their Open Doors Scholarship, Tom and Mary Ellen provided gifts to the WPSU Campaign to Fund Digital Conversion, the Shaver's Creek Environmental Center, the Center for the Performing Arts, a Renaissance Fund Scholarship and the Thomas Briggs Hunter Memorial Award for Service Leadership in memory of one of Tom Litzinger's doctoral students.
"What we do philanthropically represents our core values, which are diverse and organic," Mary Ellen Litzinger said. "We believe that philanthropy isn't something that you do at the end of your life. It's a continuously evolving process that can respond to exciting opportunities like the Open Doors Scholarship program."
After receiving a bachelor's degree in nuclear engineering from Penn State, Tom Litzinger joined General Electric (GE) and completed a master's degree in mechanical engineering from Rensselaer Polytechnic Institute through GE's Edison Engineering Program. He left GE to do doctoral studies at Princeton and joined Penn State in 1985 as a College of Engineering faculty member. He is currently assistant dean of educational innovation, accreditation and digital learning, director of the Leonhard Center for the Enhancement of Engineering Education and professor of mechanical engineering.
Mary Ellen Litzinger received a bachelor of arts degree in English from Ithaca College, a master of science degree in library science from the University of North Carolina – Chapel Hill, and a doctorate in instruction systems from Penn State. She was employed at Penn State from 1981 to 2011 as a reference librarian at University Libraries (1981-1997); a strategic planning facilitator in the Office of the Provost (1997-1999); an instructor in kinesiology (1999-2007); and as an instructor in the College of Engineering's Women in Engineering Program from 2003 until her retirement in 2011. She also is an active Penn State volunteer. She is a past member and chair of the WPSU Board of Representatives, and she also chaired the Fundraising Committee for Shaver's Creek Environmental Center during the "For the Future" and "Building the Future" Campaigns. She currently chairs the Community Advisory Council for the Center for the Performing Arts.
This gift from the Litzingers will advance "A Greater Penn State for 21st Century Excellence," a focused campaign that seeks to elevate Penn State's position as a leading public university in a world defined by rapid change and global connections. With the support of alumni and friends, "A Greater Penn State" seeks to fulfill the three key imperatives of a 21st-century public university: keeping the doors to higher education open to hardworking students regardless of financial well-being; creating transformative experiences that go beyond the classroom; and impacting the world by fueling discovery, innovation and entrepreneurship. To learn more about "A Greater Penn State for 21st Century Excellence," visit greaterpennstate.psu.edu.