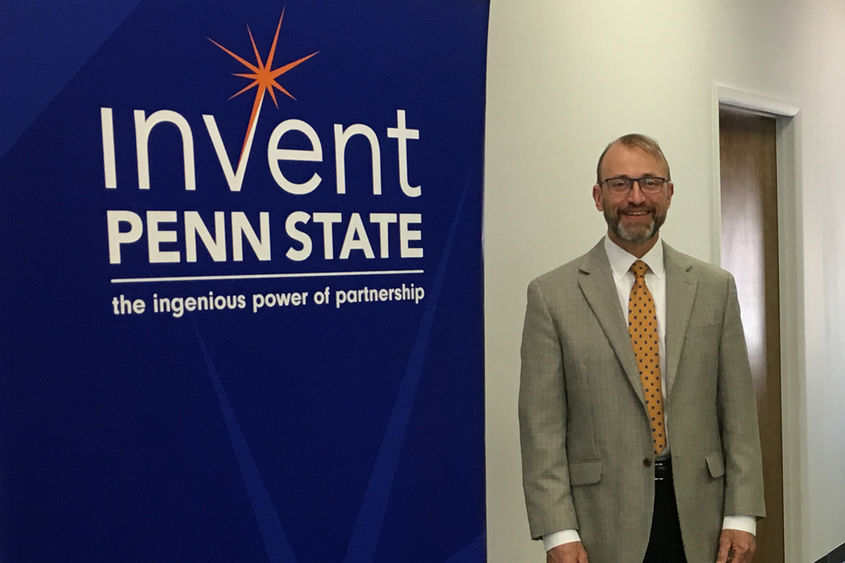 An in-kind gift from McCartney's Business Products of Altoona has outfitted Penn State Altoona's downtown LaunchBox. McCartney's team delivered furniture to the site including a variety of tables, chairs, and desks of classic and modern designs, which make for a collaborative and comfortable work environment for budding entrepreneurs.
The Altoona LaunchBox, located in the former Gables Building along Twelfth Avenue in downtown Altoona, was formally dedicated in June 2017. Community members and Penn State Altoona students, alumni, faculty, and staff have access to the space at no cost. It is designed to provide startup companies with the resources necessary to build a business.
Randy Green, president of McCartney's Business Products, is a native of Altoona and a proud Penn State alumnus. He was eager to give back to his alma mater and the community. "Part of what McCartney's does is reach out into the community with a focus on servant leadership. We think of ways to better the community—for work, life, and play."
Green, who serves on the Greater Altoona Economic Development Corporation (GAEDC) board, knew that Altoona LaunchBox was the perfect partnership for McCartney's. "We look for opportunities to positively influence young entrepreneurs in the area and the downtown community." Green has worked alongside various Penn State Altoona advocates through the years, including Penn State Altoona Chancellor and Dean Lori J. Bechtel-Wherry and the late Penn State benefactor and downtown visionary, John Kazmaier. "I served on GAEDC with John, and I saw all that it took to bring Penn State Altoona downtown. LaunchBox brings people with dreams and energy to downtown. Everything we set up allows for collaboration. It is important to give entrepreneurs the space to talk about ideas and work on their projects."
Founded in 1887 by Thomas C. McCartney, McCartney's began as a wallpaper and paint store. In 1926, the business was purchased by the partnership of Boyd A. Baker, John H. Tracey and Charles J. O'Brian. The business later expanded to include office supplies and stationary. Tracey eventually became the sole owner, and today his family still owns and operates the business.
LaunchBox is a signature program of the Invent Penn State Initiative, a Commonwealth-wide system to spur economic development, job creation, and student career success. Invent Penn State blends entrepreneurship-focused academic programs, business startup training and incubation, funding for commercialization, and University-community collaborations to facilitate the process of turning ideas into viable products and services.