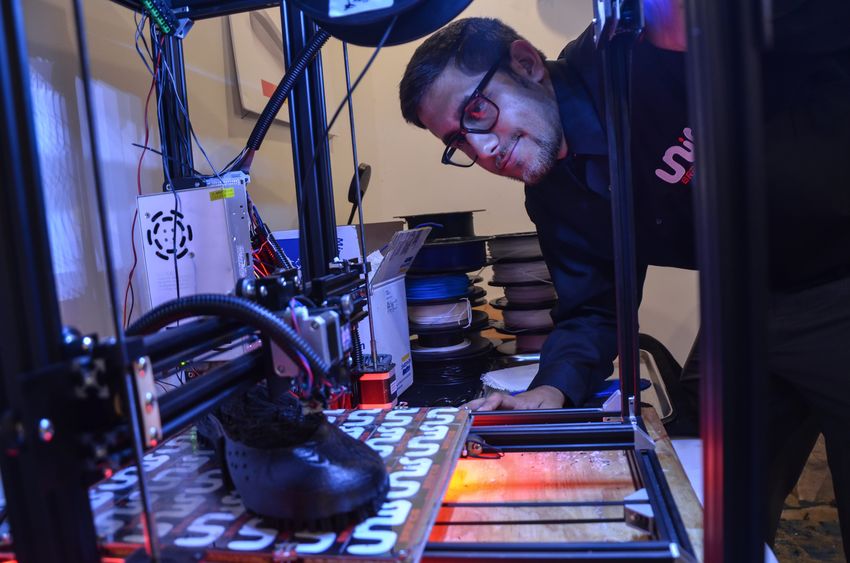 ALTOONA, Pa. — Some people have a passion for sports, others for movies or books. For Nicholas Unis, it's shoes. In high school, he liked to buy and sell them over the internet. He also worked at Champs Sports, a retail store that sells apparel and sneakers. There, he got an idea that has turned into an exciting business venture.
"As people were coming in and not finding exactly what they wanted at Champs, I got the idea to fully customize a pair of shoes," Unis explains. He first began experimenting with custom footwear by ripping apart shoes, repainting them, changing the material, and then selling them.
Upon graduation from high school, he enrolled at Penn State Altoona, and decided to pursue business, which exposed him to entrepreneurship, accounting, management and marketing. He also took part in the Pechter Business Plan competition, a program that consists of a four-phase process for students to take ideas from concept through a feasibility study/market analysis to a full business plan.
In his freshman year, Unis presented a plan for UnisBrands LLC, a custom 3D-printed footwear business. "That was a failure," Unis chuckles. "It just wasn't as developed as it needed to be, but the judges helped steer me to where I should be focusing."
That year, Unis also scored some feedback from two judges on the popular television show, "Shark Tank." The pair came to Altoona as part of the Speaker Series, and listened to Unis' pitch. "At the time, I just had a hard plastic shoe and a rough wooden printer. They liked the idea and gave me some very good input."
Armed with constructive criticism and fresh determination, Unis researched how best to proceed. The first step was finding a 3D printer. Large-scale ones were completely out of his price range, and while looking into smaller-scale ones, he realized he could probably just make one of his own. With some online help, he gathered components and went to a manufacturer. Together they came up with the printer Unis currently uses.
The next step was to take a design and get it to print without errors. Soon Unis had a working system in place. Now, using CAD software, he designs the shoe and implements it into a program which slices the 3D design into thousands of layers. From there, it makes a tool path for the printer. It builds a model layer by layer, which is then exported to an SD card and put into the printer.
"A 3D printer is essentially a hot glue gun on a route," Unis says. "The software decides the route it's going to take. The printer takes a spool of material — in this case, thermal plastic — and pushes this material through the motor. It heats up, melts the material, and moves in layers until complete."
In the fall of his sophomore year, Unis gave the Pechter competition another try. This time — with a product to show and a more developed plan — Unis was chosen as a finalist. He was granted incubator space at the Sheetz Center for Entrepreneurial Excellence to create detailed descriptions of his business concepts, potential market and likely competitors. In the spring he presented again and won the competition, taking a $5,000 prize, money he is still using toward developing and refining his product. Right now, Unis is taking a look at the manufacturing process, sole design, and how the prints and liners are applied to the shoe.
A website is up and running, although visitors can only play around with colors and patterns for now, not place an order. "I'm looking to launch a Kickstarter around December for pre-orders," Unis says. "That's how we'll take our first orders. Right now, I'm just working on a casual-wear shoe, something that's aesthetically pleasing and comfortable. I eventually want to get into athletic wear."
Unis says he's pleased with where the business is right now, knowing that things take time, and perfection can't be rushed. He's confident there is a market for his full-customization product and is excited to grow the brand, hoping to eventually rival Nike, Adidas, and Under Armour. He dreams of having a headquarters and a factory in Pittsburgh, with all materials made in the United States.
Until then, Unis will finish his degree at University Park and continue to develop his customizable shoes. He has applied to the Happy Valley LaunchBox FastTrack Accelerator program where, if accepted, he will have access to training, co-working space, mentorship and professional consultation and research resources. Support for the program is funded in part by the Invent Penn State initiative, launched by University President Eric Barron in 2015.
Unis is grateful for his time at Altoona and the opportunities he was able to take advantage of, like the Pechter Competition.
"When I first came to college, I didn't know what I wanted to do. It hit me once I started at Penn State Altoona, that business is where my passion is," he said. "If I was going to do something, I wanted to do it right, I wanted to put all of the efforts that I possibly could into it. A person can have a great idea, but if he doesn't have the passion for it, it fails. I think as long as I keep that passion alive and am doing what I want to do, I'm going to be successful."