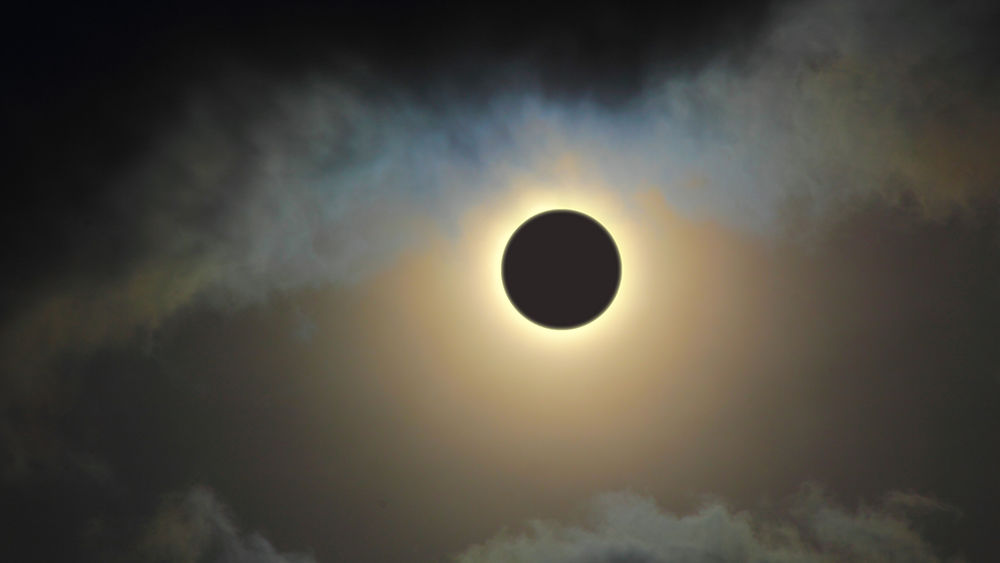 Interested in learning about and safely viewing the partial solar eclipse? Stop by the reflecting pond near the Bookstore on Monday, August 21, 2017, between 1:30 and 4:00 p.m.
Faculty members will present a projected image of the sun that is safe to view during the entire 2 1/2 hour long eclipse period. The peak of the partial eclipse will occur at 2:38 p.m., where 78% of the sun will be covered. However, the moon will be in front of the sun during the entire eclipse period. You can stop by for a few minutes and see the sun through protected viewing glasses or look at the larger projected image anytime.
Critical safety instructions for anyone viewing the eclipse:
It is never safe to look directly at the sun without proper eye protection. Remember that staring directly at the sun for even a brief period of time can cause permanent vision loss. The only safe way to look directly at the uneclipsed or partially eclipsed sun is through special-purpose solar filters, such as "eclipse glasses" or hand-held solar viewers. Homemade filters or ordinary sunglasses - even very dark ones - are not safe for looking at the sun as they transmit thousands of times too much sunlight.
Refer to the American Astronomical Society Reputable Vendors of Solar Filters and Viewers page for a list of manufacturers and authorized dealers of eclipse glasses and handheld solar viewers verified to be compliant with the ISO 12312-2 international safety standard for such products.
Safety Tips
Always inspect your solar filter before use. If scratched or damaged, discard it. Read and follow any instructions printed on or packaged with the filter.
Always supervise children using solar filters.
Stand still and cover your eyes with your eclipse glasses or solar viewer before looking up at the bright sun. After looking at the sun, turn away and remove your filter - do not remove it while looking at the sun.
Do not look at the uneclipsed or partially eclipsed sun through an unfiltered camera, telescope, binoculars, or other optical device.
Similarly, do not look at the sun through a camera, a telescope, binoculars, or any other optical device while using your eclipse glasses or hand-held solar viewer - the concentrated solar rays will damage the filter and enter your eye(s), causing serious injury.
Seek expert advice from an astronomer before using a solar filter with a camera, a telescope, binoculars, or any other optical device. Note that solar filters must be attached to the front of any telescope, binoculars, camera lens, or other optics.
For other safe viewing alternatives, visit the Solar Eclipse Across America site.