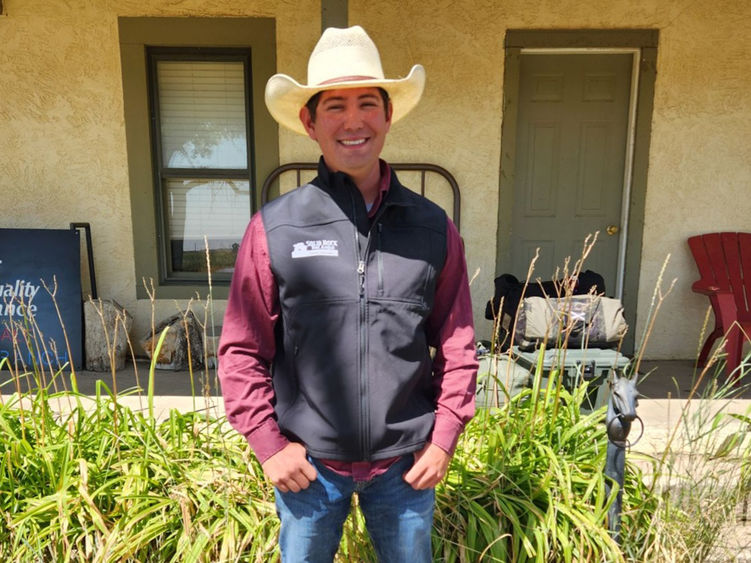 UNIVERSITY PARK, Pa. — After wrapping up his career with the United States Navy, Aaron Kuhn, a second-year animal science student in Penn State's College of Agricultural Sciences, returned home to Hollidaysburg to revive his family farm.
A summer internship on a 1,600-acre ranch in Colorado showed him ways to make that happen by expanding his knowledge of the cattle industry.
"As my family's farm transitioned from my grandparents to my parents, the Hereford herd was sold as my father worked an off-farm job," said Kuhn, who currently studies at Penn State Altoona. "My goal is to return cattle to the farm."
He said his interest in cattle management also grew from experiences at another family farm. "I dated a girl whose family owned a small ranch," he said. "Her brother was majoring in animal science at North Carolina State. Talking with him about his experiences piqued my interest. Now that I have the support of the GI Bill, I can pursue those interests."
To gain hands-on experience on a larger scale, Kuhn interned at River Bend Ranch in Limon, Colorado. The ranch, owned and operated by Joe and Cindy Frasier and their family, is home to 900 registered Red Angus cattle. The ranch welcomes a new intern yearly, but Kuhn was the first Penn Stater to spend his summer there.
The business of caring for a large herd kept Kuhn busy. While the day-to-day work varied, he explained that they usually began each day by moving the herd into a different pasture.
"Moving cattle is a dance," he said. "You must be in the right spot at the right time to apply pressure to get them to move in the right direction. Sometimes, they don't want to go. After a while, it gets easier, but some days, they get away from you, and you must start all over. It might take an hour to move the herd, or it might take three."
Rotating pastures and handling the cows was done in the morning when it was cooler to decrease the animals' stress. Mornings were also the time for identifying newborn calves.
"When I went out with the four-wheelers, I would catch the calves, then record their weight, parentage and give them identification tags," he said. "We had 200 calves in one week early in the season."
Kuhn gained experience in cattle management and veterinary work, including vaccinations, checking herd health and artificial insemination. He observed embryo transfers and an ultrasound procedure to determine marbling and ribeye size. He assisted with tracking pasture growth and with projects such as building fences and repairing water systems.
"The Frasier family was incredibly hospitable and welcomed me with open arms," Kuhn said. "It was like having another family, which was nice. I learned a lot, and it was a great summer."
Kuhn noted that he wants to get more ranch experience next year. Since horses are not used on the River Bend Ranch because of the terrain, he hopes to gain horse experience on a ranch in Wyoming or Montana.
Kuhn said he has his sights set on farm or ranch management in the long term, explaining that he enjoys all aspects of cattle production and would like to build it into a full-time career after graduation.
"I'd like to run my family's farm, but I also have an interest in a business on the side that focuses on cattle reproduction," he said.
At Penn State Altoona, Kuhn is a member of the Agriculture Club, serving as an assistant adviser and a mentor. Kuhn's adviser, Gail Good, associate teaching professor of agriculture, said his leadership skills and creative ideas have enabled the club to expand its initiatives and presence on campus.
"Aaron wholeheartedly supported the club's annual Ag Awareness Day and has provided suggestions and support for numerous club activities," Good said. "Aaron is a positive asset to the Penn State Altoona community. His drive, enthusiasm and real-world experiences provide invaluable insight at a level most of his fellow students have not yet encountered."
Kuhn reflected on the many benefits of being a student at Penn State. The University's Career Services helped with a cover letter for his internship. Penn State's Office of Veterans Affairs and Services also has been another important resource.
"There are a lot of military students on campus," Kuhn said. "You'll run across people who were in the same branch as you or had similar experiences. It's nice to connect with them. It's important to take school seriously but also to enjoy everything that Penn State offers."