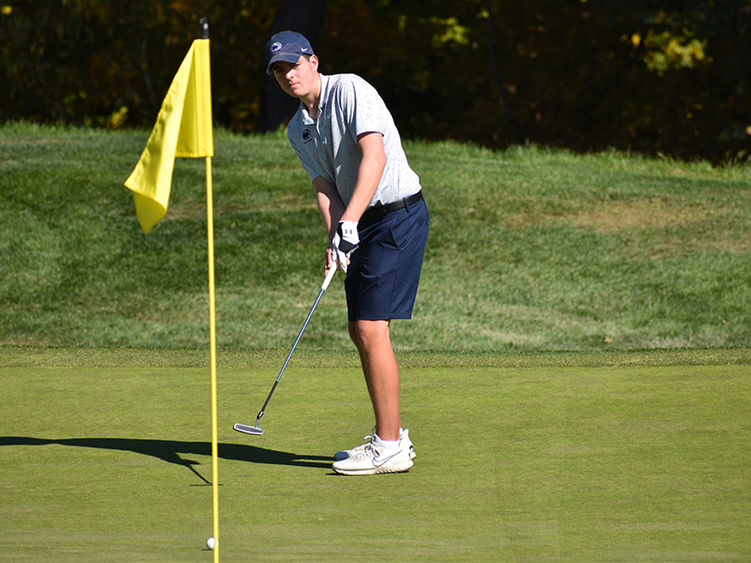 NICHOLASVILLE, Ky. — After the second round of the NCAA Division III Championships on Wednesday at Keene Trace Golf Club, the Penn State Altoona men's golf team finished in 34th place out of 43 teams.
The Lions shot 305 in Wednesday's round, when the team's action shifted to the club's Champion Trace course. The score was a 10-shot improvement over Penn State Altoona's total in the opening round at the Keene Run course, and it represents the second-lowest team round in an NCAA postseason event for the Lions.
By not making the top 18 spots on the team leaderboard by the conclusion of Wednesday's round, Penn State Altoona did not make the cut to qualify for the final two rounds of the tournament, and the Lions' season comes to an end.
"We had a great round going and let it slip a little down the stretch. Most days, we would be disappointed, but to have put ourselves in a position on the back nine of cut day to actually be playing meaningful golf speaks to where we are as a program and where we are heading," said Penn State Altoona head coach Tom Koehle. "This particular group can build off this experience, and I hope it propels us into the fall season."
Jack DiTrani of Hinsdale, Illinois, was Penn State Altoona's top finisher on the player leaderboard, tying for 76th place out of 221 individual golfers. DiTrani shot 76 on the par 72 course Wednesday, recording a two-round score of 149.
"Jack plays his best golf in pressure situations and big tournaments," Koehle stated. "He proved it once again over the last two days."
Trey Heffelfinger of Mount Union carded 75 in Wednesday's round, tying for 110th place individually with a two-day score of 152. Peter Nusbaum of Pittsboro, North Carolina, shot Penn State Altoona's top score in Wednesday's round, shooting a 2-over par 74 to compile a two-day score of 161.
Joey Toth of South Park fired an 80 on Wednesday to finish with a two-day score of 163, and Owen Wise of Lewistown shot 86 to finish with 168 across two rounds.
Nusbaum's Wednesday score was a 13-shot improvement from his round-one score, while Toth shaved three strokes off of his score from day one and Heffelfinger improved by two shots.
The 2022-23 season was a successful one for the Penn State Altoona men's golf program. The Lions won the Allegheny Mountain Collegiate Conference championship in October, marking the seventh time in program history that the team earned the conference crown. That championship gave Penn State Altoona its sixth-ever NCAA Division III postseason appearance.
"Overall, this group helped put Penn State Altoona golf on a national map. We defended our conference championship, we played in five different states — from Indiana to New York — competed against nationally-ranked teams, and earned the respect of our Division III peers along the way," said Koehle. "I'm proud of what our entire roster accomplished over the last two years. I know we will look back someday and know this is where our program took the next step."