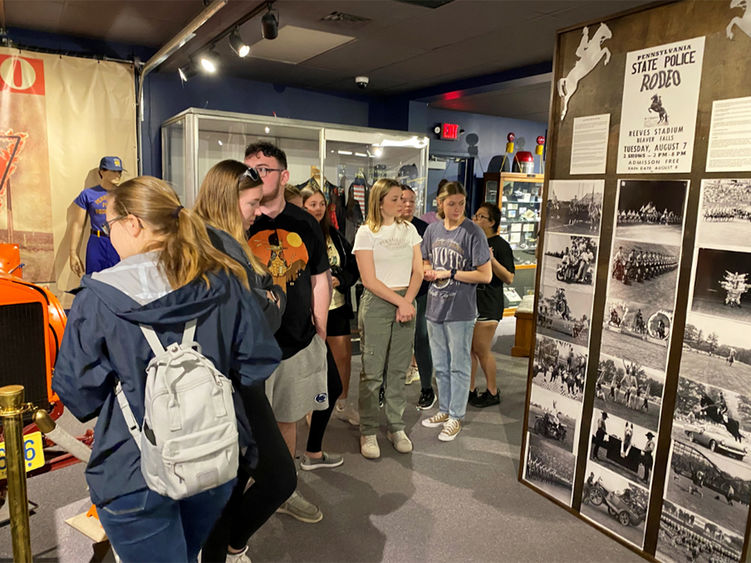 ALTOONA, Pa. — Penn State Altoona criminal justice students participated in the "Realities of Police Use of Force" educational training at the Pennsylvania State Police Academy on Thursday, April 13. Twelve students, accompanied by Nathan Kruis, assistant professor of criminal justice, made the trip to Hershey for the training.
"This was a tremendous opportunity for our students," Kruis said. "The Pennsylvania State Police (PSP) is the most professionalized police force in the country. They have some of the best instructors in the nation; I cannot underscore enough how fortunate we were to be able to spend the day learning from them."
The students received a tour of the campus, seeing the famous Pennsylvania State Police stables and learning about the mounted unit. They spent time at the kennels and learned about the Pennsylvania State Police K-9 unit. They also took a tour of the Pennsylvania State Police Museum and learned about the history and evolution of the PSP.
"The trip was very eye-opening," commented third-year criminal justice student Lacee Barnhart, who hopes to one day become a state trooper. "There was so much about the state police that I didn't know. The physical and intellectual training the officers go through is incredible."
Students spent most of the day in the classroom learning about police use of force from training specialists. They were taught everything from constitutional law to case doctrine to departmental policy. They analyzed body camera footage of citizen interactions with troopers and were shown the various levels and complexities of police use of force.
Sierra McConnell found the training to be comprehensive.
"We learned what factors troopers must consider when deciding if a threat warrants lethal force, and then we experienced the PSP use-of-force simulator," said McConnell.
Students participated in a series of computer simulations in which they acted as troopers and applied the knowledge they learned throughout the day. This is the same simulation used to train cadets.
"It helped us understand the stress officers are truly under when they have to make decisions in a split second," said McConnell.
"I want to personally thank all of the troopers who made this possible," said Kruis. "Sergeant Alan Zulick, Corporal Reginald Easterling, Lieutenant Timothy Fetzer and Trooper Joseph Dunsmore really went out of their way to provide a truly memorable learning experience for our students — one that they won't forget."