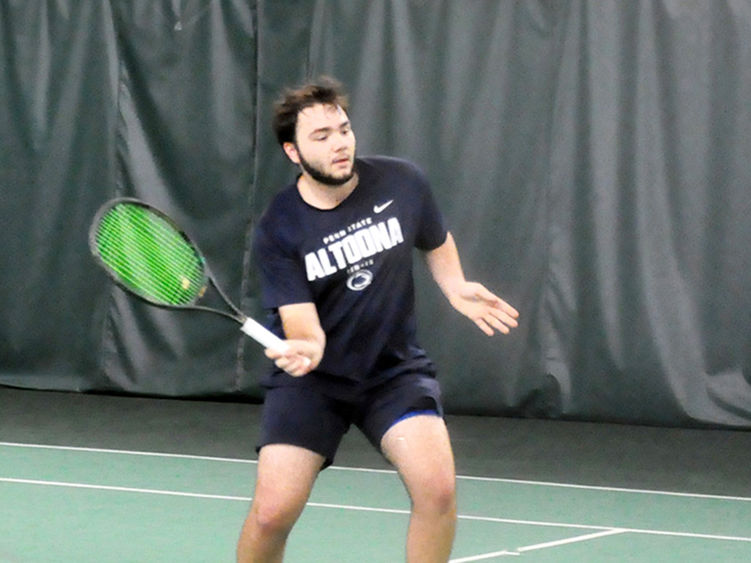 NORTH BOSTON, N.Y. — Penn State Altoona student-athlete Joey Toth of South Park was selected the Allegheny Mountain Collegiate Conference's Player of the Week in men's tennis on Monday, March 20.
Toth went 2-0 in both No. 1 singles and No. 1 doubles last week, helping the Lions to a 5-4 win over non-conference opponent Saint Vincent College and a 9-0 victory against AMCC foe Pitt-Greensburg.
In Penn State Altoona's home win against St. Vincent last Wednesday night, Toth posted a 4-6, 6-1, 10-7 victory over his singles opponent, and he partnered with Casey Hess of Annville for an 8-3 win in doubles. In the Lions' sweep of Pitt-Greensburg on Sunday afternoon, Toth defeated his opponent 6-0, 6-1 in singles and again teamed up with Hess for an 8-1 victory in doubles.
This is Toth's first career AMCC Player of the Week recognition in men's tennis. He currently holds a 2-1 overall record in No. 1 singles matches this season, as well as a 2-1 mark in No. 1 doubles matches.
Penn State Altoona men's tennis is 3-1 overall, including a 1-1 record in the AMCC. The Lions return to action on Saturday, March 25, traveling to Erie to face conference opponent Penn State Behrend in a match starting at 3 p.m.