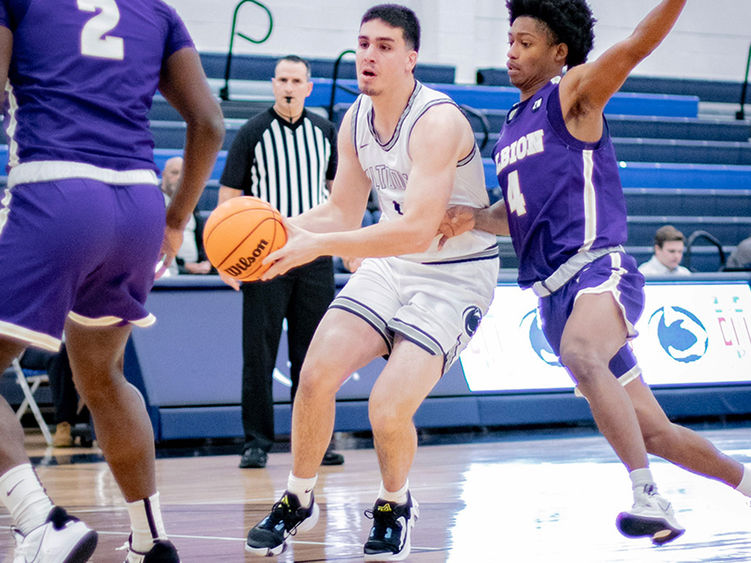 ALTOONA, Pa. — Penn State Altoona forward Mason Bush of Pittsburgh was named the Allegheny Mountain Collegiate Conference Player of the Week in men's basketball on Monday, Jan. 2.
Bush put up big scoring numbers for the Lions in a two-game stretch against strong non-conference opponents York College and Oberlin College, including posting a 20-point performance in each contest.
In Penn State Altoona's 81-69 loss to York on Dec. 20, Bush scored a season-high 29 points to go along with six rebounds, two steals, one assist, and one block. He helped lead the Lions to an 83-78 double-overtime victory over Oberlin on Dec. 30, scoring a team-high 23 points while adding four rebounds and two assists.
In those two games, Bush averaged 26.0 points per game, 5.0 rebounds per game, 1.5 assists per game, and 1.0 steals per game. He was impressive from the field, shooting 17-for-30 (56.7%) overall, including going 10-for-16 (62.5%) from 3-point range. Among all AMCC players this season to date, Bush is fifth in 3-point field goal percentage (43.5%), ninth in 3-pointers made (20), and 16th in points per game (11.5).
This marks the first time in Bush's collegiate career that he has been selected as an AMCC Player of the Week.
Penn State Altoona men's basketball is 4-6 this season. With their non-conference schedule now complete, the Lions open AMCC play at home this Wednesday, Jan. 4, at 2 p.m.