Penn State to celebrate the first-generation student community Nov. 8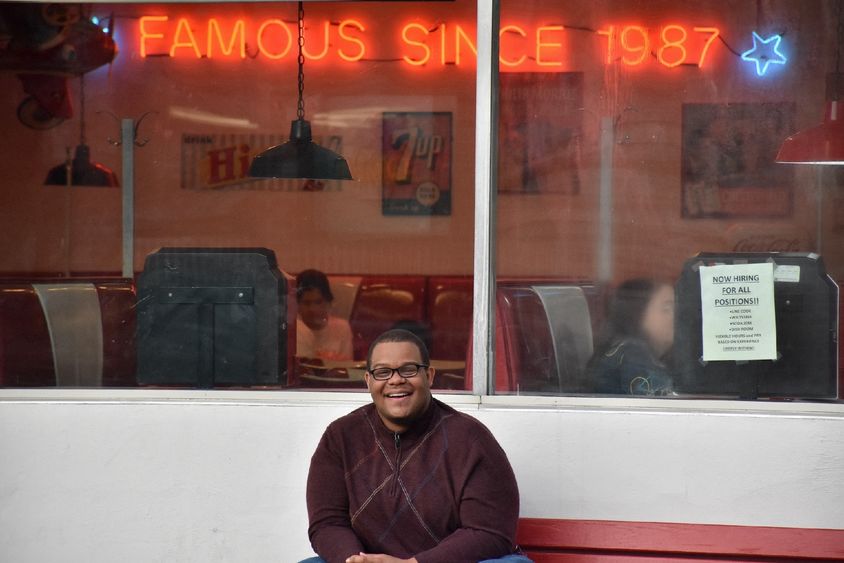 UNIVERSITY PARK, Pa. — Penn State will hold its annual First-Generation Celebration on Nov. 8, celebrating Penn Staters, promoting campus resources, and bringing awareness to the first-generation community at Penn State. 
Recent Penn State first-generation students said that finding their way and pushing to get across the finish line instilled them with a sense of pride and accomplishment. Here are what three Penn State alumni had to say about their experiences as first-generation college graduates. 
Trae Morgan-White 
Trae Morgan-White said after four years at Penn State, he wasn't sure he was going to finish his degree in digital and print journalism from the Donald P. Bellisario College of Communications. Morgan-White was looking at another year of school, and for his family, that meant financial hardship.  
But he would be the first person in his family to earn his bachelor's degree, and the thought of becoming a first-generation college graduate helped to spur him on. He also credited his extracurricular activities and resources for helping him get to graduation. 
"I thought, I'm almost there, I'm almost to the finish line," Morgan-White said. "It took a lot of perseverance." 
Morgan-White's first exposure to Penn State was by chance. In eighth grade while attending school in Philadelphia, he was part of a Penn-State-themed cohort in his math class, with the walls decorated in blue and white. This prompted him to do a lot of research on Penn State, he said. Then, in high school, Morgan-White connected with a college adviser who is a Penn State alumna, and she helped him apply to the University. 
Hard work in high school and a Brooke J. Lenfest Scholarship helped Morgan-White to earn a place at Penn State and be able to pay for it. But the road to graduation was not easy, he said. Because he started at Penn State in 2016, the COVID-19 pandemic began as he was entering the final stages of college. 
Morgan-White graduated in August 2021 with the support of his mother and the network of support services at Penn State. 
"Don't take your Penn State resources for granted," he said. "If you have any issues, you feel like you can't handle, seek out the resources given to you. Communicate with professors, go to tutoring." 
He also said working for the student blog and news outlet Onward State helped him figure out his passions: entertainment and music writing. He said a dream job would be to write for Rolling Stone, the magazine that has helped launch the careers of some of the best entertainment, music and pop culture writers of the last 50 years.  
Though his college career wasn't easy, and there were many challenges to overcome, Morgan-White said it was important for him to finish and earn his degree. 
"As a first-gen student, you have a lot to learn and look forward to." 
Mahima Kania 
Mahima Kania, who is from Gujarat, India, isn't just a first-generation college graduate. She became the first female engineer among her extended family and the first to earn a bachelor's degree from a foreign university when she graduated from Penn State with a major in mechanical engineering in 2021. 
Kania is now an operations engineer and project lead at Comcast in Atlanta, a position she earned after just six months with the company.  
As an international student at Penn State, Kania said she had to learn a lot on her own to be successful. 
"It was a challenge," she said. She spent a lot of time on the application and visa processes and navigating Penn State as a first-generation student. 
Kania took what she learned and was determined to help others in their journey. She became involved in the International Student Council at Penn State and would later serve as the organization's director of public relations and marketing, then vice president. Kania explained that international students face additional barriers to opportunities such as U.S. internships because of the visa process. 
"It was very important for me to help these students get more comfortable and have a welcoming experience," she said of her work on the council. 
Kania participated in several internships during her time at Penn State. Perhaps the most important was as an operations engineer intern in Atlanta, which led to her current full-time job as a project lead for a sustainability initiative.  
Her advice to other first-generation students is, "Keep pushing, keep driving yourself and others around you. It will seem like a battle at the start, but it will happen." 
Sierra Snigier 
Sierra Snigier thought she would start college at Penn State Altoona taking it easier than she did in high school, where she was very involved in clubs and other extracurriculars. It didn't last long.  
Soon into her first year, Snigier vied to become the Student Government Association's first-year class president and remained involved in student government throughout her Penn State career, eventually rising to vice president and president.   
That first act of engagement led her to a world of networking, scholarships, internships and opportunities, she said.  
"I think if I wasn't involved as much, I wouldn't have gotten as many scholarships, or have been noticed as well," she said.  
To make ends meet, Snigier worked at the on-campus gym and as a residential assistant. Every summer she tried to have an internship in her hometown of Seaford, Delaware, working in different industries to get an idea of what she wanted to do when she graduated. She also interned with the communications team at Penn State Altoona.  
Snigier earned her degree in communication and media studies in 2020. She is now a marketing assistant in her hometown, a position that has allowed her to get involved in the community, the same thing she did at Penn State Altoona. Her advice to other students is to be involved, but at a level they're comfortable with.  
"You have an impact," she said about being involved in clubs. "I think students believe it has to be big, something for people to remember you by. But impact is what is relative to you. If your goal is to get into one club, that's amazing. If you want to change something on campus, and do that, it's all relative to you. My goals were all small strides."  
But most importantly, for first-generation students, "Just be proud you're there," Snigier said.   
"The support of my family also meant the world to me — my parents, my aunt and uncle, and my brother," she said.  
To learn more about First-Generation Celebration Day, visit the Student Success Center website. First-Generation Celebration Day is co-sponsored by the Student Success Center and the First-Gen Advocates student organization.  
The Student Success Center is part of Penn State Undergraduate Education.