Shelley Haffner studied public health preparedness through the intercollege Master of Professional Studies in Homeland Security program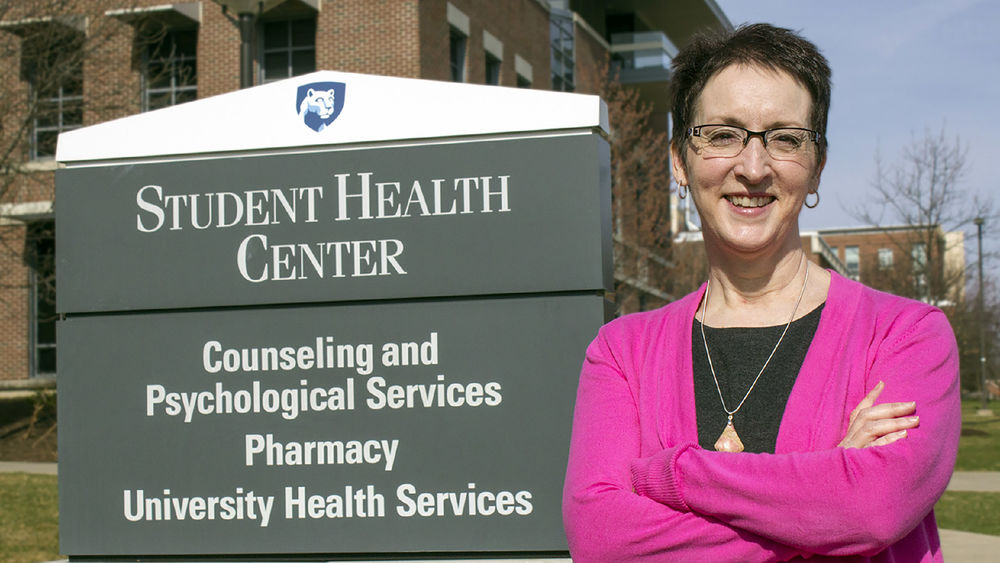 ALTOONA, Pa. — A Penn Stater put her studies to use — not once, but twice — to help the University mitigate the spread of infectious diseases on campus to the community.
Shelley Haffner first used her knowledge in public health preparedness to improve the infectious hazards response planning for the University's Student Health Center in 2015 when she was the infections disease manager for University Health Services, and a Penn State World Campus student. She followed that with training exercises at University Park and other Penn State campuses until her retirement in February 2020.
That fall, Haffner came out of retirement to help manage the Penn State Altoona campus's day-to-day response to the COVID-19 outbreak.
She said she was able to lead the planning and responses thanks to what she learned through the degree program, the public health preparedness option of the Penn State Intercollege Master of Professional Studies in Homeland Security, through the World Campus.
"My studies helped me to understand the bigger picture of how an infectious disease outbreak on a university campus impacts the surrounding communities," Haffner said. "Keeping that in mind, identifying key contacts before a disease outbreak and then training together improved communication and collaboration, which are essential during any type of emergency or disaster."
Developing an infections hazards response plan
Years before the COVID-19 pandemic, Haffner worked on the response for the University Health Services during the 2009 H1N1 influenza pandemic. That is what led her to realize years later, when she was studying emergency management in the program, the need for a comprehensive infectious hazards plan that could be used for a multitude of diseases, such as chicken pox, measles, meningitis, mumps, or new pathogens.
She said a plan was important for University Health Services, a unit of Penn State Student Affairs, because an outbreak among students would likely first be identified by its practitioners. The plan she created identifies University and community stakeholders who would respond, their duties, needed supplies, and more.
Heffner said Penn State's and Centre Region emergency management offices worked with her to stage exercises using the plan. For her capstone course, she coordinated a joint exercise between those emergency management teams. She graduated in 2017.
Haffner and Penn State Emergency Management worked with officials at the health centers at other Penn State campuses to develop their own plans and train staff.
Responding to COVID-19
Haffner came out of retirement in the fall of 2020 to work at the Penn State Altoona Sheetz Health and Wellness Center, where she helped with contact tracing, case management and the case reporting the state and University required.
The Altoona campus has about 3,000 students who are a mix of traditional-age college students, commuters who live in the area and adult learners. She said contact tracing, required for those who tested positive for COVID-19, was "eye-opening" as she could see how quickly the virus spread.
Opening and maintaining effective communication with University and community leaders was key to the mitigation.
"That's where my education helped me the most," she said. "It was that eureka moment — What we were dealing with on campus could and likely would spread to the community."
What is public health preparedness?
Public health preparedness is an option of the Intercollege Master of Professional Studies in Homeland Security program, which is offered exclusively online at Penn State. The public health preparedness option is administered by the Penn State College of Medicine in Hershey, Pennsylvania, and the homeland security program is based at Penn State Harrisburg.
The public health preparedness curriculum has been designed to help students understand how to plan for and lead effective medical and public health responses in the event of natural and man-made disasters.
Haffner said the best practices in establishing lines of communication and coordinating with stakeholders were threaded throughout the master's program.
"When you've got any kind of disaster, you have to make sure you're doing the best you can to keep people in the loop, get the message out in real time and make sure it's accurate," she said.
Haffner said she was grateful for the knowledge she gained in the program and was honored to serve the communities.
"I felt like I was able to help in a very small way do my part to help with this COVID-19 response," she said. "I truly appreciated it."
Visit the Penn State World Campus Website to learn more about the public health preparedness option.
Contact
Mike Dawson
408 The 329 Building, University Park, PA 16802