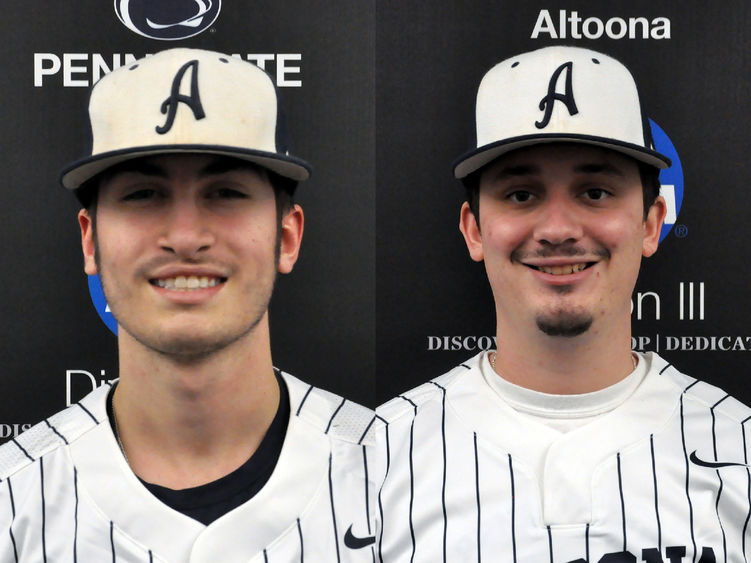 NORTH BOSTON, N.Y. — Penn State Altoona second-year utility player Jake Hillard (State College, Pennsylvania/State College) was selected the Allegheny Mountain Collegiate Conference's Preseason Player of the Year in baseball, and the Lions team was predicted to finish fifth in the conference standings this year when the league released its Preseason Coaches' Poll on Wednesday, Feb. 9.
Hillard had a highly decorated first season with the Penn State Altoona baseball program last spring, during which he started all 27 games for the Lions. In 2021, he was voted the AMCC Newcomer of the Year while also taking first-team All-AMCC honors, was a second-team All-Mideast Region selection by D3baseball.com, and was also named to the third team of the ABCA/Rawlings All-Mideast Region squad. Hillard ranked third in the conference last season in home runs (7), doubles (13), total bases (73), and slugging percentage (.737), and he was also sixth in runs batted in (32), 12th in batting average (.374), 13th in hits (37), 19th in runs scored (25), and 26th in on-base percentage (.418).
In the 2022 preseason poll, Penn State Behrend was voted into the top spot, while Alfred State College came in second. La Roche University and Mount Aloysius College finished in a tie for third place, and Penn State Altoona rounded out the top five spots.
Penn State Altoona baseball went 12-15 overall last season, including having a 9-7 mark in the AMCC that gave the Lions the fifth seed in the conference postseason tournament. Sixth-year head coach RJ Barnard will look to guide a young roster through the 2022 season, as 18 of the team's 32 players this year are entering their first seasons with the program.
Named as "Players to Watch" for Penn State Altoona this season were Hillard and second-year right-handed pitcher/middle infielder Kyle Glass (Imler, Pennsylvania/Claysburg-Kimmel).
Glass was a third-team All-AMCC selection last season at pitcher. Among conference pitchers last year, he ranked third in wins (6) and shutouts (1), fourth in complete games (3) and earned run average (2.93), eighth in appearances (10), ninth in innings pitched (43), 17th in games started (5), 19th in strikeouts per game (4.81), 22nd in strikeouts (23), and 28th in opponent batting average (.263).
Penn State Altoona baseball opens its 2022 season on the road Saturday, Feb. 19, when the Lions will face nonconference opponent Hood College in a doubleheader starting at noon at Frederick Community College.