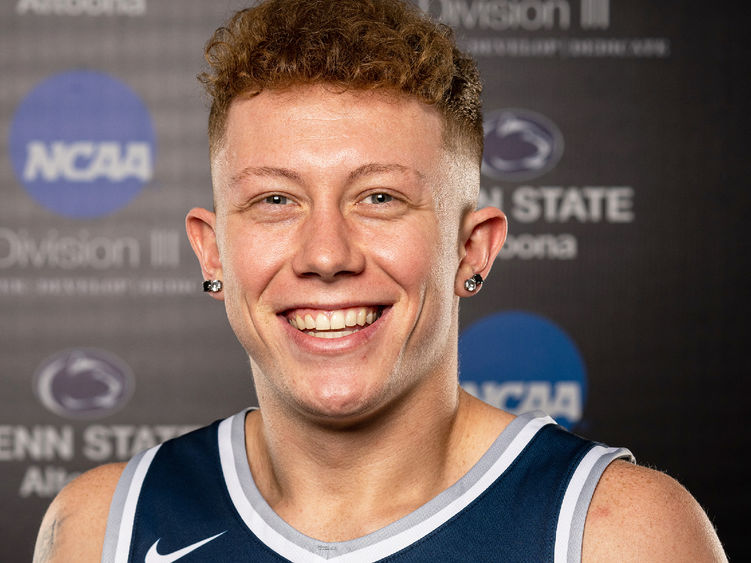 NORTH BOSTON, N.Y. — Penn State Altoona guard/forward Andruw Harman (Chesapeake, Virginia/Great Bridge) was named the Allegheny Mountain Collegiate Conference's (AMCC) Player of the Week in men's basketball on Monday, Feb. 7.
Harman helped lead the Penn State Altoona men's basketball team to big wins over AMCC opponents La Roche University and Alfred State College last week.
In Wednesday night's 96-87 victory on the road against La Roche, which was the AMCC Game of the Week, Harman scored 13 points to go along with five rebounds and two steals. In Saturday's 95-89 home win over Alfred State, he put up a season-high 27 points while shooting 12-for-15 from the floor, and he also had team-highs with eight rebounds, six assists, and three blocks while tallying two steals.
On the week, Harman averaged 20.0 points per game while shooting 63.6% from the field, 6.5 rebounds per game, 3.0 assists per game, 2.0 steals per game, and 1.5 blocks per game. Through 21 games this season, he ranks first in the AMCC in blocks (32), third in defensive rebounds (107), fourth in total rebounds (146) and field goals made (110), sixth in rebounds per game (7.0), seventh in offensive rebounds (39), eighth in points (284), ninth in free throws made (61), 11th in assists (49), and 12th in points per game (13.5).
This is Harman's second AMCC Player of the Week selection of the season.
Penn State Altoona men's basketball is 16-5 overall, including an 11-2 mark in the AMCC that has the Lions in first place in the conference standings. The team's next game is at home at 7:30 p.m. Wednesday, Feb. 9 against AMCC opponent Pitt-Greensburg.