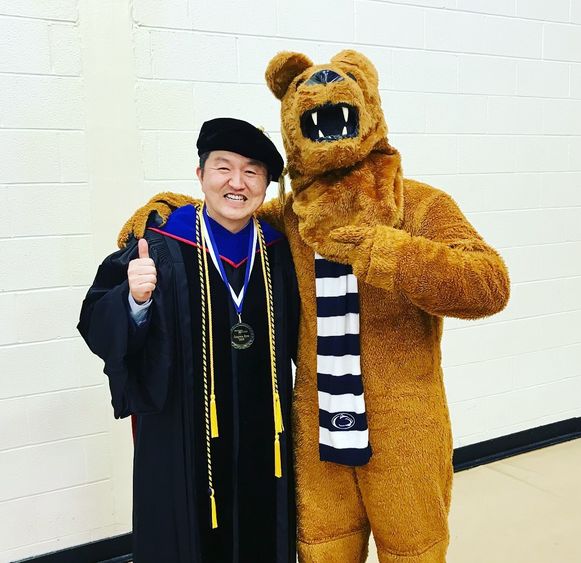 UNIVERSITY PARK, Pa. — Jungwoo Ryoo, head of the division of business, engineering and information sciences and technology at Penn State Altoona, has been named chancellor and chief academic officer of Penn State DuBois, effective April 4.
"We are pleased to have Dr. Ryoo joining the Penn State community as the chancellor and chief academic officer of the DuBois campus," said Kelly Austin, vice president for Commonwealth Campuses and executive chancellor. "In the time Dr. Ryoo has directed Penn State Altoona's Division of Business, Engineering, and Information Sciences and Technology, he has developed a strong track record as an administrator and a leader. The wealth of skills and experience he accumulated as division head makes Dr. Ryoo the ideal candidate to lead Penn State DuBois. His understanding of and deep appreciation for the Commonwealth Campuses will continue to build on the excellence and success at Penn State DuBois."
"Penn State DuBois is a student-centered campus that excels in providing a transformational experience. Its personalized education environment and compassionate faculty and staff allow students to thrive and help them develop as leaders," Ryoo said. "The campus is such a welcoming place — I immediately fell in love with the students, faculty and staff. It very much feels like home to me."
Ryoo takes over for M. Scott McBride, who retired in June 2021 after four years in the role. Pingjuan Werner, professor of engineering at Penn State DuBois, has been serving as interim chancellor.
As Penn State DuBois chancellor and chief academic officer, Ryoo will be responsible for the quality of academic programs in teaching, research and service; strategic planning; budgeting; philanthropy; faculty and staff development; outreach; and community and alumni relations. Penn State DuBois has approximately 600 undergraduate students with 39 full-time faculty members, and offers six bachelor's degree programs and eight associate degree programs.
Ryoo said becoming Penn State DuBois' chancellor offers him the opportunity to serve and give back to the University community. "I aspire to be a servant leader by helping students, faculty, staff and the surrounding community," he said. "This aspiration of mine also lives up to the meaning of my name: Jungwoo means 'giving' and Ryoo means 'tree.' I am expected to be a 'giving tree,' and becoming chancellor allows me to fulfill my namesake."
Ryoo has been head of Penn State Altoona's Division of Business, Engineering, and Information Sciences since 2016. During that time, he oversaw the division's growth in academic programs and curricular development; personnel management and development; resources and facilities; and overall policies and planning.
Prior to becoming division head, Ryoo served as interim head from 2015 to 2016. He also served as chair of the Penn State Altoona Department of Information Sciences and Technology and coordinator of the bachelor of science degree program in security and risk analysis at Penn State Altoona.
Ryoo's professional experience also includes software engineering work at IBM and Sprint.
His research focuses on information assurance and security, software engineering and computer networking. He has done work in software security, cybersecurity, security management, software architecture, architecture description languages, and object-oriented software development. The Center for Rural Pennsylvania, a legislative agency of the Pennsylvania General Assembly, funded his project twice on assessing cybersecurity readiness of municipalities in Pennsylvania, which is a prime example of his research focus on real-life applications and their implications.
In addition, Ryoo has extensively researched innovative learning environments, with an emphasis on leveraging new and emerging technologies such as artificial intelligence, virtual reality and augmented reality to enrich students' learning experience. He and research colleague Kurt Winkelmann co-edited the book "Innovative Learning Environments in STEM Higher Education: Opportunities, Challenges and Looking Forward," a National Science Foundation-supported effort to bring educators together to envision possibilities and applications of new technologies in the learning environment.
He holds memberships in the Institute for Electrical and Electronic Engineers (IEEE), IEEE-Computer Society, International Information Systems Security Certification Consortium, Information Systems Audit and Control Association, Korean-American Scientists and Engineers Association and Korean Computer Scientists and Engineers Association in America.
Ryoo earned his bachelor's and master's degrees in computer science from the University of Missouri-Kansas City, and his doctorate in computer science from the University of Kansas.
He and his wife Hyeseon Kim have three sons — one who has graduated from Penn State with a bachelor's degree in data science, another currently attending University Park campus and pursuing a bachelor's degree in cybersecurity, analytics, and operations and another who plans on attending the University.