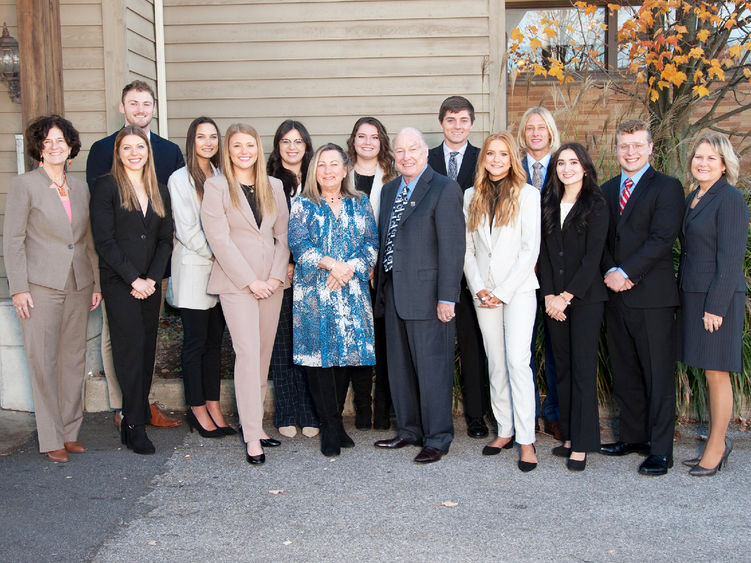 ALTOONA, Pa. — The 10th class of Penn State Altoona Sheetz Fellows was inducted during a formal ceremony on Nov. 6.
Eleven students from Pennsylvania were inducted into the program — Zane Baker, of Bedford; Makenna Dunio, of Altoona; Dominic Frucella, of Duncansville; Sara Herron, of Altoona; Miranda Kiser, of Johnstown; Allena McKinley, of Hughesville; Frankie Price, of Altoona; Hannah Reading, of Altoona; Steven Reich, of Feasterville; Hunter Stoudnour, of Hollidaysburg; and Ashley VanVeenendaal, of Hollidaysburg.
Established in 2009 as part of a historic gift from Steve and Nancy Sheetz, the competitive academic program instills leadership skills with an entrepreneurial spirit and prepares students for professional, educational, personal and social success. While many in the program are business students, it is open to students of any major.
"My wife and I are very proud of the Sheetz Fellows Program," Steve Sheetz stated during his program remarks. "We are especially proud of the fellows. It's very fulfilling to watch you grow, to meet you as freshman or sophomores and then see you at your graduation dinner as you get up and speak with such poise."
Other remarks during the ceremony were given by Donna Bon, director of the Sheetz Fellows Program; Steven Snowden, past-president of the Sheetz Fellows; and Lori J. Bechtel-Wherry, chancellor and dean at Penn State Altoona.
All Sheetz Fellows are required to maintain at least a 3.25 in major GPA and complete a concentration in entrepreneurship or an entrepreneurship minor, a minimum of 80 hours of servant leadership, a mentor program, a study abroad experience, an internship or research initiative, and an ethics course. Sheetz Fellows receive a $5,000 scholarship during their junior year and a $10,000 scholarship during their senior year, fully paid travel, lodging, and events for a 10-day Sheetz Fellows education abroad experience, and participation in a national conference, in addition to other numerous leadership and travel opportunities.
All students graduating Penn State Altoona as a Sheetz Fellow receive a medallion and special recognition at commencement.