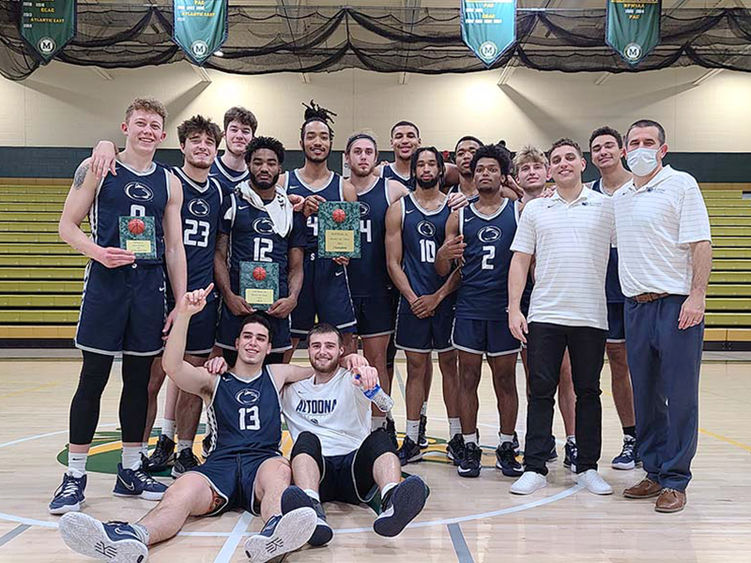 SCRANTON, Pa. — Playing in the championship game of this weekend's Electric City Classic on Saturday afternoon, the Penn State Altoona men's basketball team earned a 77-58 victory over Cairn University in Marywood's Insalaco Arena.
Cairn (4-2) held a 39-37 lead at halftime, but Penn State Altoona (4-1) locked down on defense in the second half, limiting the Highlanders to just 19 points in the period en route to a Lions victory.
Robbie Hicks (Rockledge, FL/Rockledge) led Penn State Altoona in points and rebounds, scoring 14 points and grabbing eight boards. Casey Parkins (Laurel, MD/Atholton) added 12 points, Mason Bush (Pittsburgh, PA/Seneca Valley) scored 11 and secured seven rebounds, and Alex McClellan (York, PA/West York) contributed 10 points.
Jesse Rivera scored a game-high 15 points for Cairn, and Wes Murray added 14 points.
Cairn got out to a 9-2 lead in the first half, but Penn State Altoona worked its way back and eventually tied the score 19-19 on a three-pointer by Parkins. McClellan's jumper later in the half kept the score knotted, 25-25, and his layup at 8:26 put the Lions up 29-27. The score continued to stay close for the rest of the half, and Cairn put itself up by two heading into halftime following Tehron Phillips' layup with under a minute to go.
Penn State Altoona's defense paved the way for a second-half comeback, as the Lions held Cairn to just a 7-for-33 (21.2 percent) performance from the field.
Saivon Word's (Upper Marlboro, MD/Frederick Douglass) layup at 17:27 gave Penn State Altoona a 41-39 advantage, a lead that the Lions would not relinquish the rest of the way. Later, two layups from Bush extended Penn State Altoona's lead to double digits, 51-39, with 12:55 to play.
Penn State Altoona continued to add to its lead throughout the rest of the game. McClellan's trey at 5:51 boosted his team's lead to over 20 points, 66-45. Word's foul shots with one minute remaining gave the Lions their largest lead of the game, 77-54.
At the conclusion of the classic, Word was named the event's Most Valuable Player, while Bush joined him on the all-tournament team.
Next up, Penn State Altoona gets into its Allegheny Mountain Collegiate Conference schedule, as the Lions will travel on Sunday, November 28 to face conference foe Alfred State College in a game tipping off at 4:00 p.m.