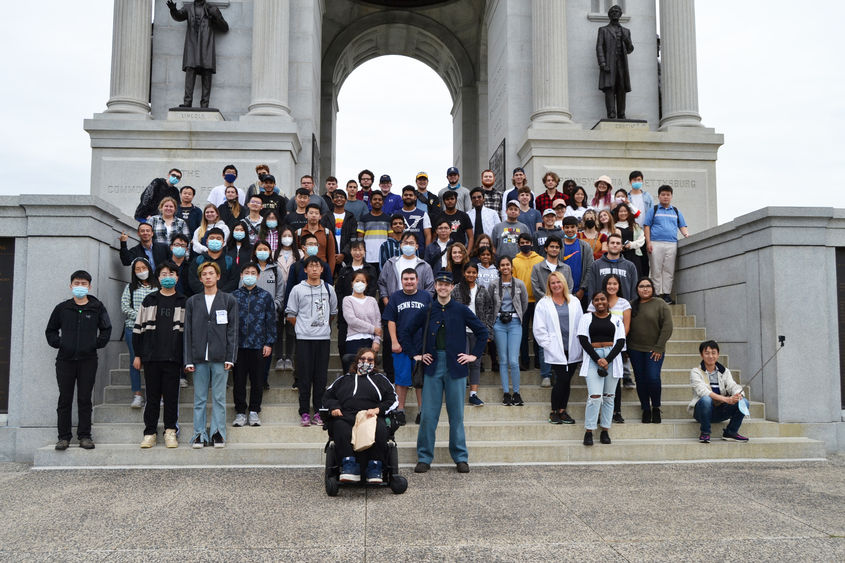 GETTYSBURG, Pa. – On Saturday, Oct. 9, a group of students traveled to the historical battlefields of Gettysburg. This in and of itself is not a unique experience; the battlefields see thousands of visitors each year, many of which are school groups.
What made this experience unique was the makeup of the students. Over 100 students from seven Penn State campuses signed up for this tour, most of them international students. They were accompanied by students from a Penn State Altoona course titled HIST 161: Gettysburg in History and Memory.
"We analyze not just the battle itself, but how and why it became a national park and an important monument to the country," said Jared Frederick, who teaches the class. Students in this class are required to give oral presentations about the battle to their peers. In this case, though, Frederick saw a new opportunity.
"I'd been working with Ryan [Geiger] in our American Studies courses, and he had asked if there were any possibilities for including international students in new experiences," Frederick said. "I reached out and he seemed intrigued by the idea."
Geiger, who represents Penn State Global at Penn State Berks as an International Student Advisor and Global Engagement Coordinator, had been looking for ways to increase international student engagement at the campuses.
"In the new Penn State Global strategic plan, a big focus is on global learning and creating ways for students to engage globally even right here in Pennsylvania," Geiger said. "When I reached out to Jared, I thought, there's an opportunity here for a unique linking between the thing that we study in our classes with how they can be used for programming to integrate international and domestic students in a more intentional way."
Frederick decided that, instead of having his students present to each other, that each of them would act as a tour guide for a group of international students at the actual battleground. This forced them to work on their confidence in public speaking, as they now were presenting to students outside of their classroom.
"They did a fantastic job," he said. "They made it very engaging and interactive. One student gave a recreation of how the cannons were loaded."
The day started at the visitor center, where students ate lunch and got to know each other. Then, they watched the film on the battle and looked at the exhibits before departing on a two-and-a-half hour tour, separated into four busses.
The day concluded at the cemetery, where Frederick showed the international students something they may not have expected.
"There was actually a Chinese immigrant who fought in the battle," said Frederick. "When I lifted up the picture of him, I felt like it became real for them. Many might have thought it was only Americans. I think when we convey human stories like that, it shows a bigger, more global picture that connects with anyone."
It was an amazing experience getting to know about the great Battle of Gettysburg and how it plays a crucial role in Pennsylvania and the United States history.

—Arya Samarth , Penn State York student
Students also found connections to former Penn Staters. In the cemetery, there is a tablet listing the 148th Pennsylvania Infantry Regiment, mostly raised in Centre County and featuring many Penn State alumni – including James Beaver, for whom Beaver Stadium was named.
Overall, the event was impactful for everyone.
"It was an amazing experience getting to know about the great Battle of Gettysburg and how it plays a crucial role in Pennsylvania and the United States history," said Arya Samarth, an international student from Penn State York. "What better way of engaging students in history than field trips! We Are!"
From the planning side, Geiger said he hopes that this experience can provide a blueprint for other similar global learning experiences.
"I view it as a pilot that can be used to create a framework for how we think about programming like this between Penn State Global and other units," Geiger said.
"I thought it was compelling, interactive, and profound," said Frederick.
Those interested in finding out more information about global engagement opportunities can contact their global campus representative.