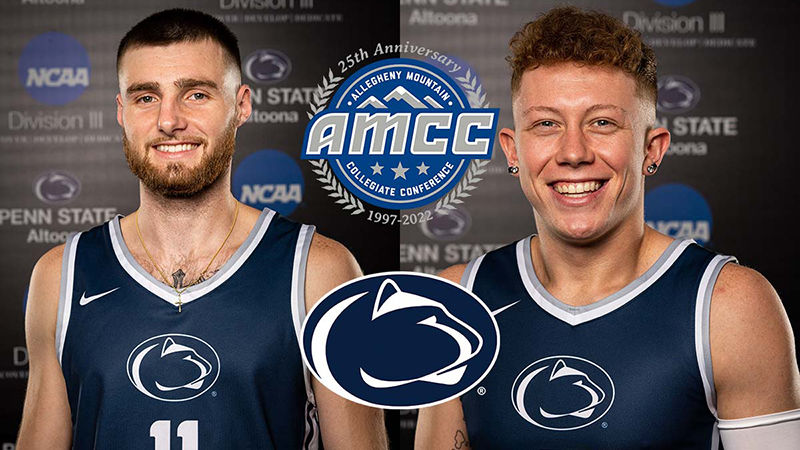 NORTH BOSTON, N.Y. — The Penn State Altoona men's basketball team was voted into fourth place in the 2021 edition of the Allegheny Mountain Collegiate Conference Preseason Coaches Poll.
La Roche University, the defending AMCC champion from 2019-20, was picked to finish first in the conference again this season. Penn State Behrend took second place in the poll, and Pitt-Greensburg rounded out the top three spots.
Penn State Altoona men's basketball went 16-12 in 2019-20, including going 11-9 in the AMCC to earn fourth place in the conference standings. After a home victory over Hilbert College in the first round of that season's AMCC Tournament, the Lions fell to eventual champion La Roche in the semifinal round. Penn State Altoona went on to secure its fourth-ever Eastern College Athletic Conference Division III Championship Tournament berth.
Head coach David McGreal heads into his fifth regular season with Penn State Altoona, as he looks to guide a talented roster that consists of a balance of experienced returners and solid newcomers.
Named as "Players to Watch" for the Lions this season in the poll were senior guard Robbie Hicks (Rockledge, Florida/Rockledge) and senior guard/forward Andruw Harman (Chesapeake, Virginia/Great Bridge).
Hicks is coming off of a 2019-20 season in which he ranked sixth in the AMCC in points per 40 minutes (22.9), ninth in three-pointers made (51), 18th in steals (31), 21st in blocks (12), 22nd in field goals made (121), 23rd in points (332), 24th in three-point percentage (34.5%), and 30th in points per game (11.9).
Harman was voted the AMCC Newcomer of the Year following the 2019-20 season, and he also received second team All-AMCC honors. He finished that season ranked second in the conference in steals (50), third in blocks (48) and defensive rebounds (180), fourth in total rebounds (226), fifth in rebounds per game (8.1), sixth in points (411) and field goals made (148), ninth in free throws made (92), 13th in offensive rebounds (46), 16th in assists (67), and 18th in points per game (14.7) and points per 40 minutes (20.4).
Penn State Altoona men's basketball starts its 2021-22 schedule at home this Sunday, Nov. 7, when the Lions will host non-conference foe Washington and Lee University at 2 p.m. in the Adler Arena.